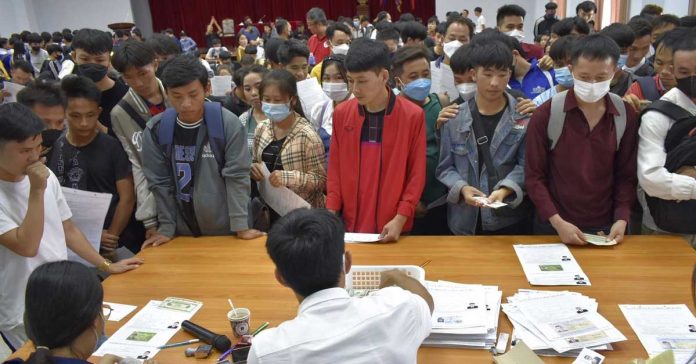 South Korea has requested the Lao government to send 2,000 workers from the country to be employed in the industrial, agriculture, and fisheries sector, particularly in small and medium-sized enterprises.
KPL reports that the First Secretary of the Korean Embassy in Laos, Ms. Park Soung In, said that the Korean Ministry of Justice has agreed to allow 2,000 Lao workers to seek employment in the country for both long-term and short-term contracts. While the former has a tenure between 3-5 years and is primarily meant to solve the issue of labor shortages in the industrial sector, the latter employs foreign labor for seasonal work for only 3-5 months in South Korea.
According to her, a memorandum of understanding signed with the local or central government between the two countries will ensure transparency and fair treatment for foreign workers, and any violations of the labor cooperation agreement will be canceled unilaterally.
Mr. Seo Seock Myoung, Head of the Korean Employment Permit System Center in Laos, said that workers of any gender can work in the Korean industrial sector. However, Lao workers seeking employment in the industrial sector must learn the Korean language, and applicants should be aged between 18 and 39.
About 4,588 Lao workers are employed in Korea at the moment, of which 1,169 are Lao workers who have passed the Employment Permit System (EPS) assessment to work in the industrial sector.
Numerous families in Laos are currently struggling to cope with increasing financial pressures from the depreciation of the local currency and soaring inflation. As a result, there has been an increase in the number of Lao workers looking for employment abroad.
Laos began sending skilled workers to the Republic of Korea in 2016 after the two countries signed the Service Commitment Agreement of the Point System. As per this agreement, Lao workers who can pass a skill test administrated by the Human Resources Development Service of Korea (HRD Korea) can seek employment in the country.