HONG KONG SAR –
Media OutReach
– 15 August 2023 – Yesports Master Club and Yesports Media Limited ("Yesports") are thrilled to have co-organised and supported the
2023 Sham Shui Po District Family Fun Esports Games ("The Event")
, which was successfully held on August 12-13, 2023.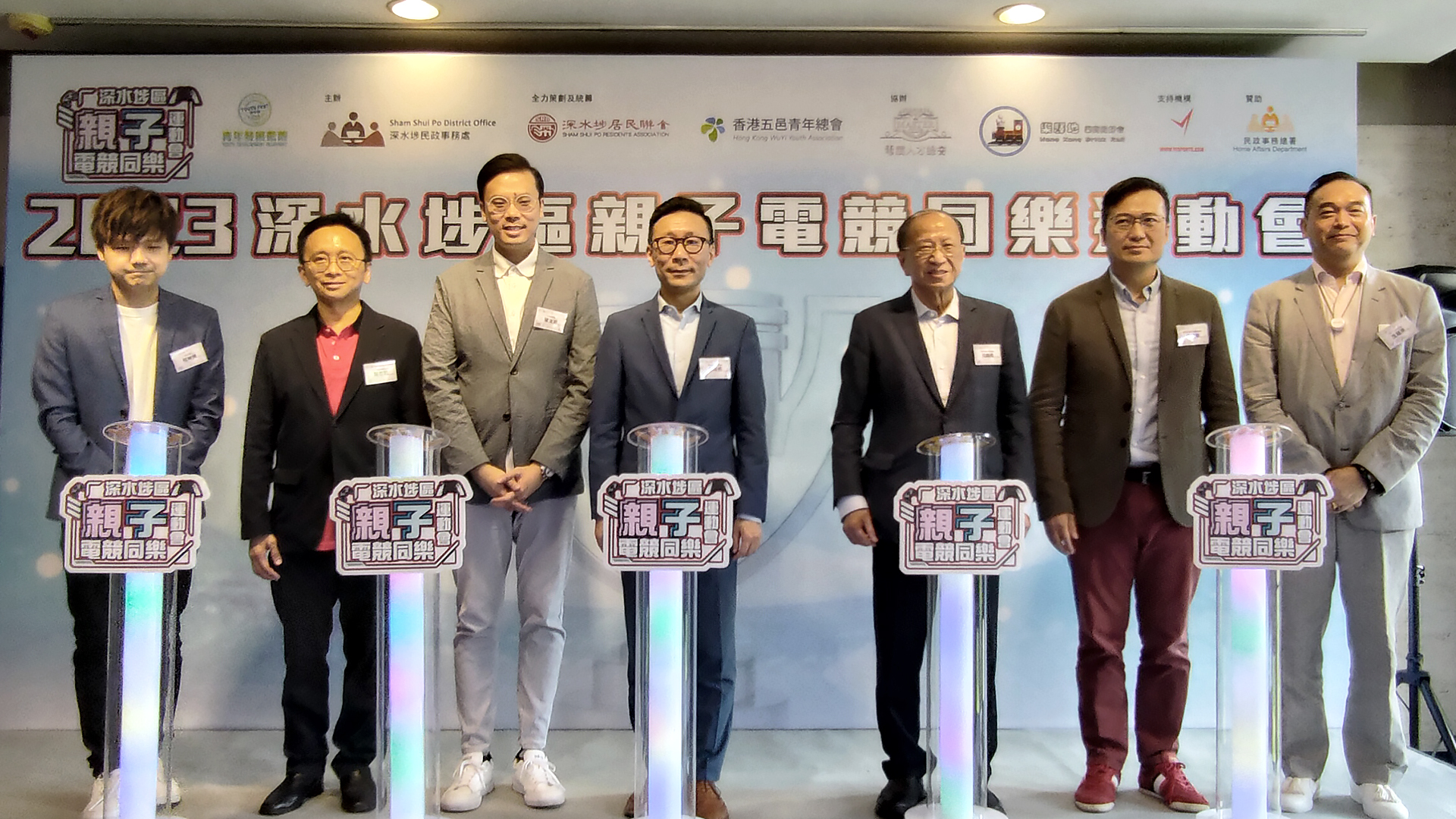 "Sham Shui Po, being one of the most populous administrative districts in Hong Kong which has about 400,000 residents, has elected to host its first major family-oriented Esports event with Yesports with its core theme of bringing together Family Value + Esports," commented from Mr Timothy Shen, Convener of Yesports Master Club. "Riding on the success of this highly praised event, Yesports is expected to kick start a series district-oriented events with the other 17 districts in Hong Kong to contribute to the development of youths, family values, and to recognise esports being formally admitted as a formal Medal tournament in Asian Games in September and anticipated to be included in the Olympics in 2024."
The Event, which was organised by Sham Shui Po District Office of Home Affairs Department, coordinated and planned by Sham Shui Po Residents Association and Hong Kong Wuyi Youth Association, co-organised by Yesports Master Club and Hong Kong Brick Rail LUG, fully supported by Yesports Media Limited, had the support from the Hong Kong SAR Home Affairs Department, to create a family fun event which to provide a stage for young people and promote esports culture and sportsmanship and to bring the community together for a weekend of interesting activities and fun.
During the 2-day event, the Finals for
2023 Hong Kong Esports Master Cup – King of Glory Tournament
for both open section and university section were also held with winners announced.
The champion team
of the university section, who is also Yesports Master Club's supporting team will have the opportunity to go to Hangzhou to compete with the champion of the Hangzhou King of Glory competition, exchange ideas with Hangzhou players, improve skills, and strengthen youth exchanges and cooperation between Hangzhou and Hong Kong.
It's our honour to have Mr Leung Man Kwong, MH, Legislative Council Member, Mr Pui Kwan-kay, SBS, MH, President of The Football Association of Hong Kong and Former Vice President of the Sports Federation & Olympic Committee of Hong Kong, China, Mr Wong Yan Yin, JP, Sham Shui Po District Officer, Mr. Chan Wai Ming BBS, MH, JP, Chairman of Sham Shui Po Residents Association, Mr. Wong Tat Tung, MH, JP, Founder of Hong Kong WuYi Youth Association, Mr. Lam Kwan Leung, Chairman of Hong Kong WuYi Youth Association, Mr Ho Kwan-chau, Sham Shui Po DC Members and Event Convener, and Mr. Timothy Shen, Convener of Yesports Master Club attended the Kick-off Ceremony and Award Ceremony and exchanged thoughts on the esports development for esports athletes who wish to turn professional (or semi-professional) and compete internationally.
The winning teams of
University section
and
Open section
:
University section:
Champion: SoulReaver
1st runner up: QcF
2nd runner up: 雲明昭㬢
Open section:
Champion: 冰冷
1st runner up: Dream Team
2nd runner up: 哈次捏米庫
Introducing Esports to the Sham Shui Po Community in Hopes of Enhancing the Positive Impressions of Esports
Mr Wong Yan Yin, JP, Sham Shui Po District Officer, stated that this year's Asian Games is the first year that esports has become an official medal event. The delegation of Hong Kong, China will send representatives to Hangzhou to participate in the Asian Games. The "Sham Shui Po District Family Fun Esports Games" provides the public with an opportunity to learn more about the history and culture of esports and even experience the fun it brings. In addition to esports elements, the event will also feature a brick exhibition and brick-building workshops, allowing both adults and children to unleash their creativity and share joyous moments.
The Event featured the historical development of the Esports Sector, with different game consoles from both past and present at the public showcase
In addition to some games related to the Olympics or Olympic Esports for parents and children to experience, the event also allows the general public to catch a glimpse of nostalgic gaming consoles such as the "Gameboy" and "Sega Mega Drive" in the exhibition hall. The exhibition room also provides insights and history of esports, the similarities and differences between esports and traditional sports, dispelling common misconceptions or stereotype of esports and showcasing the true state of esports.
Furthermore, the event showcases numerous Sham Shui Po landmarks built with bricks, including the Former North Kowloon Magistracy, Mei Ho House, Nam Cheong Pawn Shop, and Tong Lau, which have attracted the attention of many children and adults. The brick-building workshops set up on the day have also received an enthusiastic response. Instructors introduce commonly used building techniques to the public, teaching beginners grasp the tricks of the brick building and allowing parents and children to unleash their creativity.
Yesports and Yesports Master Club are looking to bring this fun weekend to all other districts around in Hong Kong before 1st quarter of next year, to further promote Esports as a family fun event, bringing the youth and young-at-heart together to enjoy.
Hashtag: #Yesports
The issuer is solely responsible for the content of this announcement.
About Yesports
Yesports is a Hong Kong based leading global esports group offering a full value chain operations covering tournaments, events, talents management, online education, ecommerce of games/games supplies, blockchain based services etc.

Yesports strategy is to provide a "Esports + Social media + Entertainment" platform showcasing talents' skills and connecting talents to the corporates, sponsors and markets to maximize economic impact. For more information about YESPORTS's e-sports competitions or other activities, please follow YESPORTS' social media:


https://www.facebook.com/yesports.asia


https://www.linkedin.com/company/yesports-media-limited/

For more information about Yesports, Yesports University League, Yesports Master Club, please visit official websites:


https://yesports.asia/


https://www.yesportsuleague.com


https://www.yesportsmasterclub.com/


About Yesports Master Club
Yesports Master Club ("YMC") provides a hub and alliance to fellow esports players (Hong Kong and Globally). YMC aims to maximize their career development and fun in the esports industry. It invites all Hong Kong esports athletes including both professional and amateur to participate in the Yesports Master Tournament to showcase their superb skills and abilities. These tournaments consist of a wide variety of games, including all the games featured in Asian Games 2022. YMC are recruiting players from the general public including the Hong Kong gaming community, university and high school students, coaches, KOLs, etc.

Vision:

Promote esports culture and the participation of various players
Provide global benefits and development opportunities for gamers
Improve the living standards and social status of esports athletes
Contribute to the development of the esports industry, especially in Hong Kong.
For more information about Yesports Master Club, please visit the official website:

www.yesportsmasterclub.com