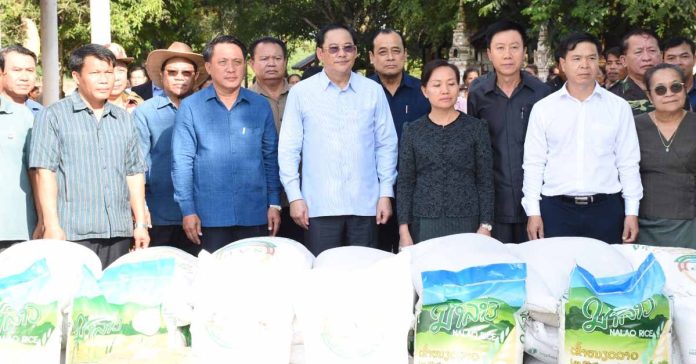 Lao Prime Minister Sonexay Siphandone, accompanied by his delegation, recently visited flood-affected regions in Champhone District, Savannakhet Province, to evaluate the situation and extend support.
The PM was accompanied by Bounchom Oubonpaseuth, the Governor of Savannakhet Province, on his visit to Sanakhoun village, in the Champhone district.
During this trip, Phulamphon Sihavong, the Mayor of Champhone, presented a comprehensive report detailing the substantial damage inflicted by the flooding upon both residents and infrastructure in the locality.
According to the report, heavy rainfall between 3-6 August led to flash floods, impacting 5,743 villagers and 1,109 homes, and the repercussions for agricultural activities in the area were even more dire.
Mayor Phulamphon informed that approximately 5,441 hectares of agricultural land were currently submerged, with 778 hectares of cultivated rice washed away. This catastrophic calamity affected 32,800 individuals, resulting in estimated damages totaling around LAK 21 billion (USD 1,075,778).
While information regarding damage to district infrastructure, particularly roads, is currently being gathered, initial estimates suggest losses of about LAK 28 billion (USD 1,434,373).
Despite these challenges, Prime Minister Sonexay Siphandone commended district and village authorities for their swift response in delivering initial relief to affected citizens. He underscored the enduring significance of sustained aid from government bodies like the Department of Agriculture and Forestry.
The Prime Minister further extended assistance to the afflicted locals by providing essential supplies, plant seeds, rice seeds, and a monetary contribution of LAK 337 million (USD 17,264), as a part of the district disaster relief initiative.
Apart from Savannakhet, seven other provinces in Laos were ravaged by flash floods and landslides.