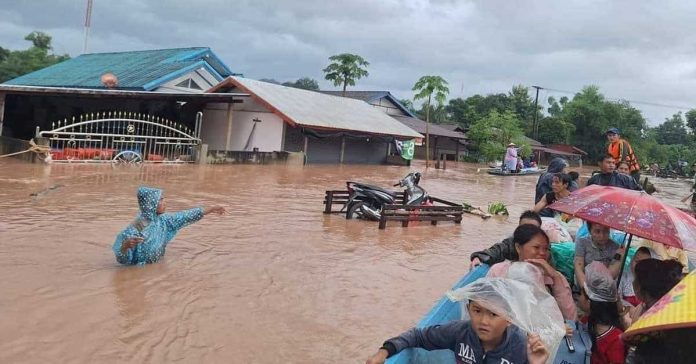 Hundreds of people have been displaced across the country, and at least two fatalities have been recorded in Bolikhamxay due to widespread flooding and landslides amid the ongoing monsoon.
Provinces across the country have been severely impacted by the onslaught of heavy rainfall, with farmland, residences, and other property inundated, leaving hundreds of residents stranded and in urgent need of assistance.
Phongsaly
The Ngor River experienced an overwhelming increase in water levels on Friday,  flooding Mai District. Phonxay village bore the brunt of the disaster, as the rising waters caused significant damage to rice fields, livestock, and infrastructure.
After the village was severely damaged, its residents, particularly the young and elderly, were evacuated with the assistance of district authorities and military personnel. There were also reports of landslides on the 2E route from Phongsaly to Vietnam.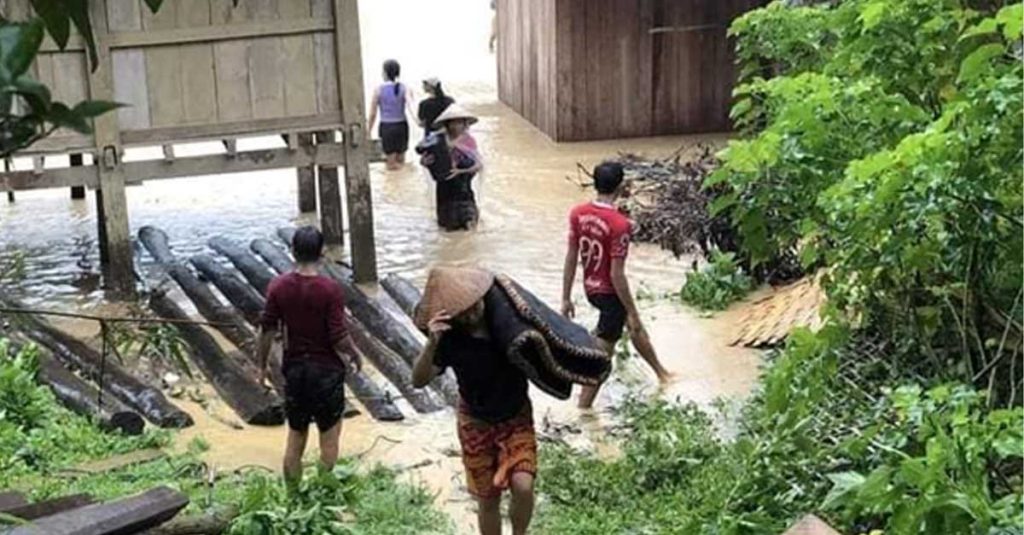 Houaphanh
A total of 23 villages in Hiem District reported flooding after water levels in the Khan River rose due to heavy rains in early August 4, causing around 199 hectares of agricultural land in the district to be severely damaged. 
Additionally, due to the release of water from the Son La dam in Vietnam on Tuesday, flash flooding was reported in Xieng Khor District on Sunday, about 139 kilometers from the dam location. Residents in the district watched in horror and recorded videos on their phones of their farmland being swamped by the flood.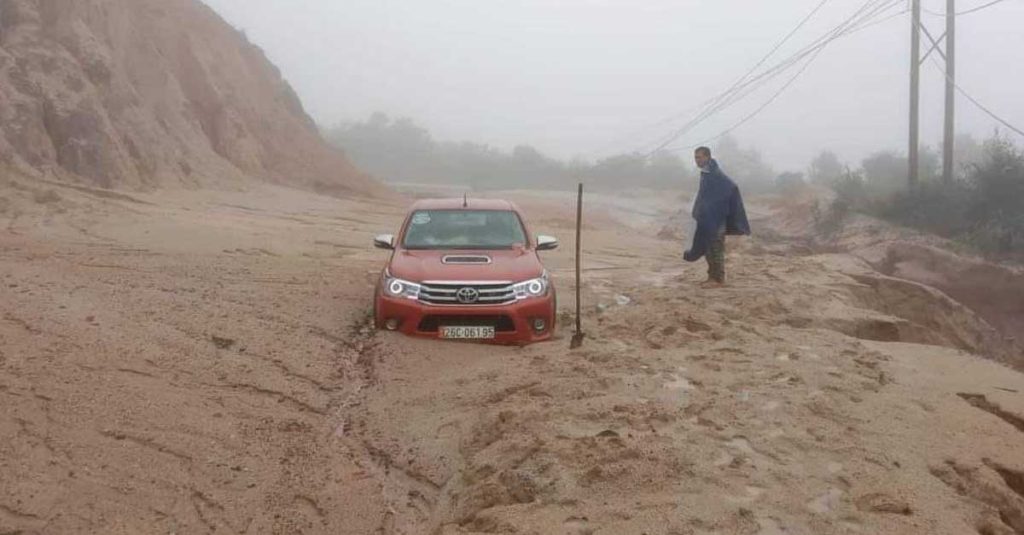 Xayaboury 
About 238 families in Hongsa District were affected by flooding, with livestock and rice paddies being washed away in 11 villages, and 115 families left stranded due to a bridge collapse in the district caused by landslides, which also damaged the main roads.  
The district mobilized the military and police forces to provide initial assistance to affected villages. Flooding has also been reported in Hongsa near its coal-fired power station, where motorists faced difficulties traveling on damaged roads.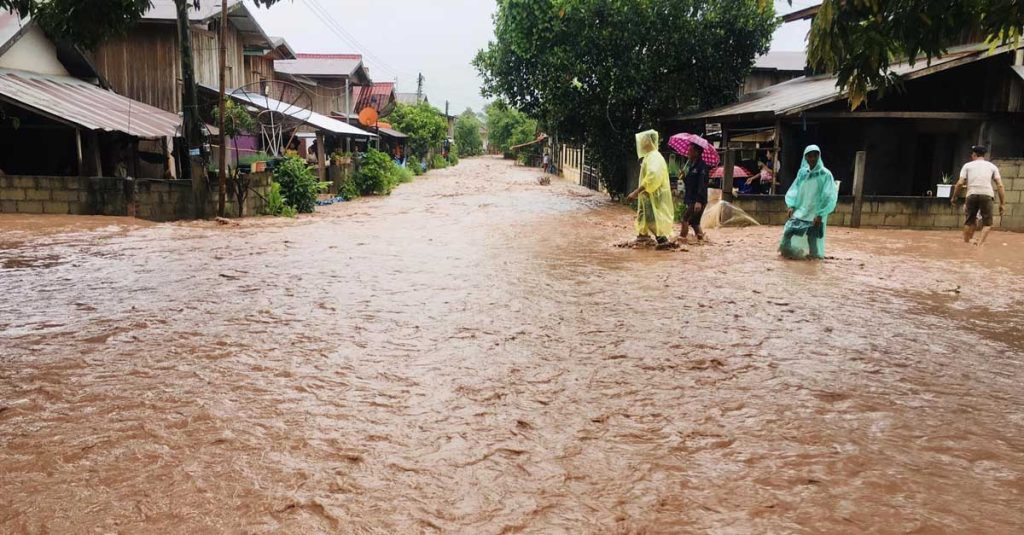 Vientiane Capital 
According to a report issued by the National Disaster Management Committee on Friday last week, landslides in Pakgum District caused the Route 11 Road from Pakgum to Bolikhamxay Province to be cut, while flooding in Sikhottabong District caused serious road damage.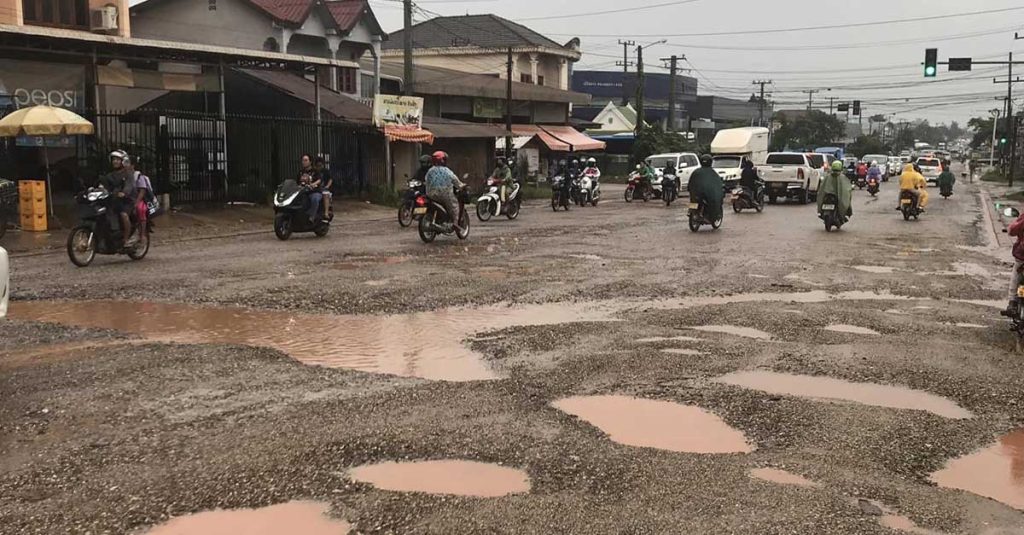 Khammouane
Six districts in Khammouane have been affected by floods, with 74 houses in the districts getting heavily damaged and 43 of them nearly submerged. 
The situation has been quite dire, with social media users expressing sympathy for a family forced to eat meals on their rooftop while waiting for rescue services went viral on Facebook. 
Local media reports indicate that Khammouane has been hit by severe flooding and landslides since late July. The floodwaters not only inundated the province but even reached a few villages in neighboring Bolikhamxay. 
In response to the tragedy, the National Disaster Management Committee has coordinated with provincial officials in both Khammouane and Bolikhamxay provinces to monitor and support impacted individuals around the clock. 
A rescue team in Khounkham district recently moved most of its trapped residents to safety, however, one Vietnamese national, has been missing and is yet to be discovered. 
Keovilai Xayabout, Governor of the Khounkham district, said that many vehicles, such as trucks and pick-up trucks, have been stranded or have been swallowed up by mud and debris during landslides.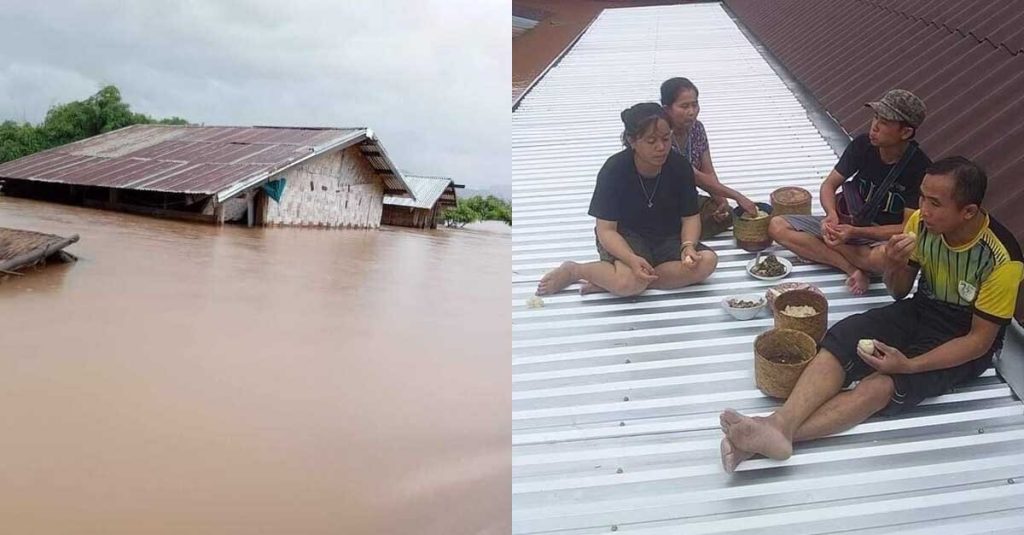 Savannakhet
The latest report from the National Disaster Management Committee suggests that floodwaters have affected seven districts in Savannakhet, impacting 203 buildings and 7,568 households, as well as two hospitals.
The floodwaters have swept across 19 villages and more than 2,100 hectares of land, as reported by the Information, Culture, and Tourism Office in Atsapangthong District. 
New photos posted on social media show houses submerged, with goats seeking shelter in remaining dry areas and locals using small boats to move around their neighborhoods.
According to Mr. Bounthan Sengdala, Governor of Atsapangthong District, residents in his district have relocated important belongings from impacted regions, and military forces are being prepared for emergency response. 
Provincial officials also supplied residents with drinking water, pre-packaged food, and cash, which was distributed amongst the victims.
Residents in Savannakhet have been asked to remain on standby for further evacuation orders.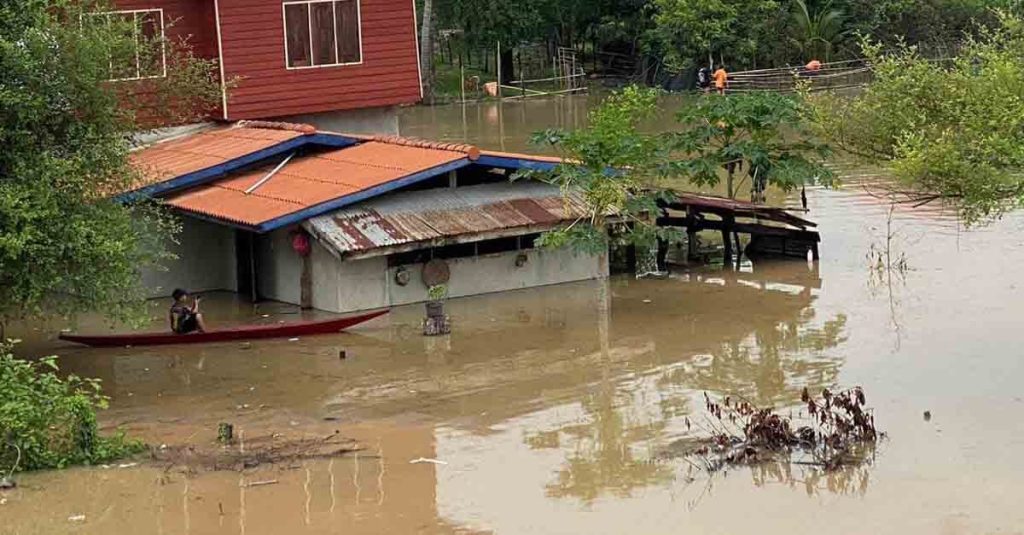 Bolikhamxay
Four districts in Bolikhamxay have been reported to be most affected by the monsoon flooding, including Pakkading, Khamkeut, Viengthon, and Xaychamphone.
The districts have also suffered different setbacks and challenges related to moving livestock, access to clean drinking water, blocked travel routes between villages, caused by landslides, and broken trees.
On Saturday, two residents in the Mouane district also tragically lost their lives when they were swept away by a landslide while searching for food amidst the heavy rainfall.
Many photos depicting the devastation caused by the flood in the Khamkeut district were posted on Facebook, in which residents can be seen wading through high levels of water, moving motorcycles, and driving cars. Some even resorted to commuting by long-tailed boats.
"We cleared the forest to put up electricity lines, and this is the outcome!" a Facebook user commented on the situation.
Mr. Phetsamay Xayyathichack, the governor of Khamkeut district, along with a rescue crew, has been providing basic relief to the affected families in the district, including drinking water, ready-to-eat meals, and eggs.
The governor has also urged village officials to continue coordination with relevant parties to provide immediate and comprehensive assistance to people in the district, particularly flood-affected families, as well as to improve traffic and road conditions between villages.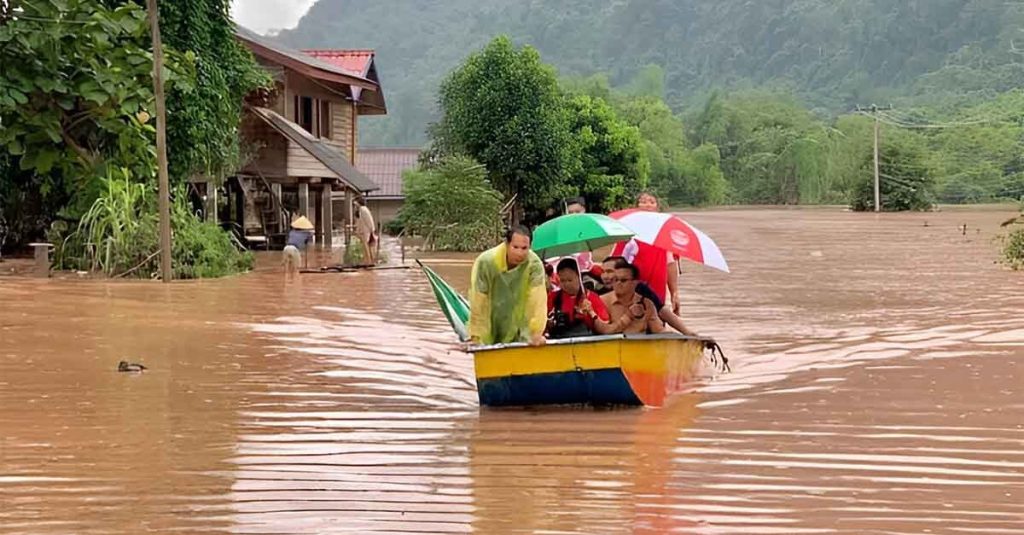 Champasack
Champasack has emerged as the least impacted province in the southern region, with only two districts, Phonthong and Champasack affected by flooding. However, the affected districts have sustained significant damage.

Photos of the flooding in Champasack's Phonthong village have recently surfaced on Facebook, depicting residents attempting to relocate from their homes to safer areas while carrying their belongings and carrying their children on their shoulders while wading through waist-high water.
Authorities from the Ministry of Labor and Social Welfare have organized relief efforts to provide essential supplies,  including household appliances, sanitary items, sleeping nets, and mats, worth approximately LAK 570 million to some central and southern provinces that have been severely impacted by monsoon flooding, including Savannakhet, Bolikhamxay, and Khammouane.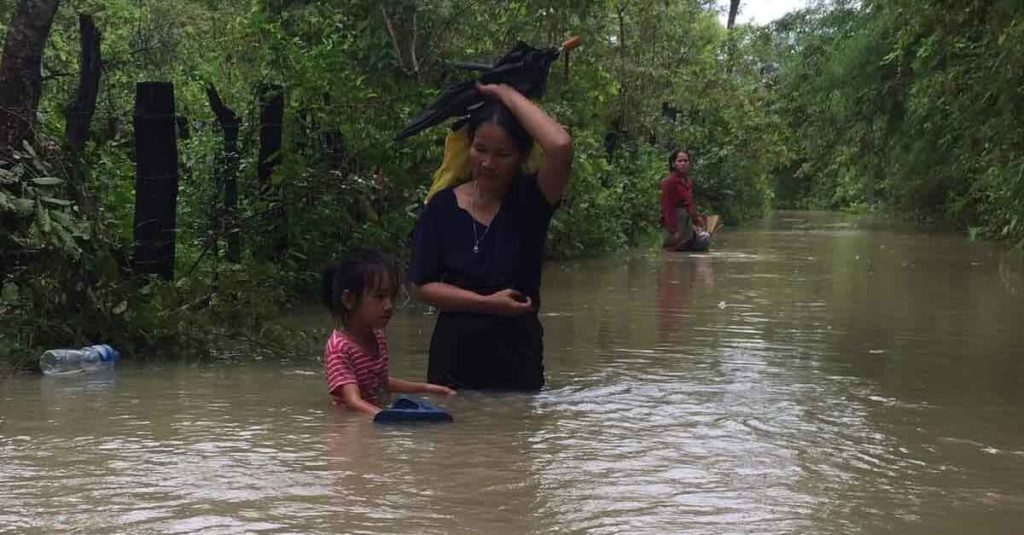 Additional reporting by Phontham Visapra