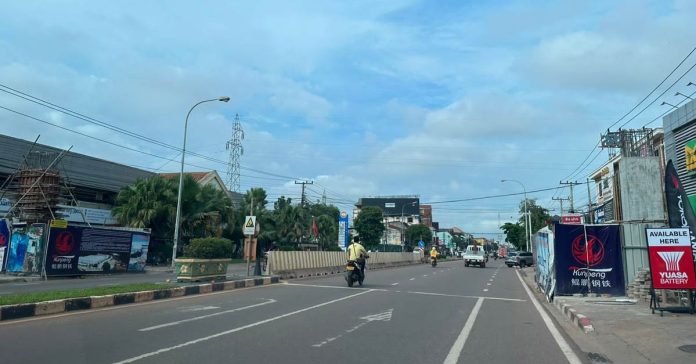 The Department of Public Works and Transport (DPWT) of Vientiane Capital announced on Wednesday that Kaysone Phomvihane Road near the Lao-Vietnam Friendship Secondary School will be temporarily inaccessible from midnight to 5:00 AM from Thursday until August 22.
The cordoned-off area starts from the traffic light at Nongnieng village to the traffic light at Phonephanao village, where the closure is necessary to transfer and install the steel structure of the pedestrian bridge that is being constructed across the main road.
DPWT says that due to excessive traffic during the day, particularly during rush hour, it was agreed that the area will be closed off at night when there is less traffic. This will also help to prevent traffic congestion and accidents in the area.
Motorists have been advised to use alternative routes during this time and the DPWT has apologized in advance for any inconvenience caused.
This pedestrian footbridge is the first to be built in Vientiane Capital to improve safety for pedestrians, especially students as the area has seen several accidents involving pedestrians in the past. It is also expected to reduce heavy traffic on the busy stretch of road.
Recently, there was a delay in the completion of the project's construction which was announced in early March and was supposed to be completed within four months.