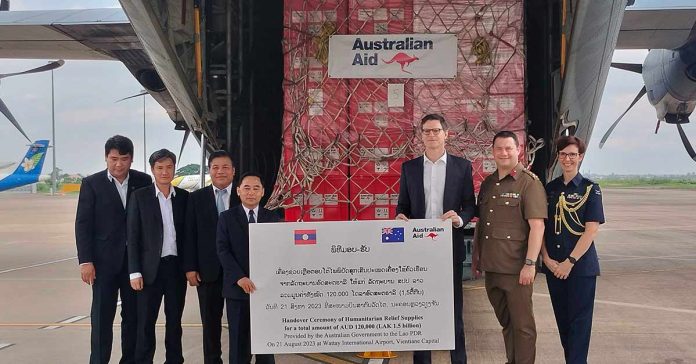 On Monday, 21 August, Mr. Paul Kelly, Australian Ambassador to Laos, handed over 13 tonnes of humanitarian relief supplies to Mr. Leepao Yang, Lao Vice Minister of Labour and Social Welfare, at Wattay International Airport.
The humanitarian relief supplies were delivered via a Royal Australian Air Force aircraft as part of IPE23, an annual Australian whole-of-government initiative led by the Australian
Defence Force, that supports defense cooperation and strengthening partnerships with
countries in the region.
"Australia is pleased to support Laos to strengthen its preparedness capacity for emergency response. This delivery of relief supplies is timely as the Lao Government responds to recent monsoonal flooding in parts of the country," said Ambassador Paul.
The humanitarian supplies, valued at AUD 120,000 (LAK 1.5 billion) include 180 hygiene kits, 368 kitchen kits, 800 blankets, 1,600 bed nets, and 900 sleeping mats which will benefit more than 2,000 people.
"The Lao Government highly values the humanitarian supplies from the Australian Government. Having the humanitarian supplies positioned in the country has enabled us to respond quickly following a disaster," said Vice Minister Leepao.
"The Australian humanitarian supplies provided to the Ministry in 2022 have recently been mobilized to support communities affected by the recent floods in three central provinces," added Vice Minister Leepao.
Australia is committed to supporting Laos in humanitarian and emergency response preparedness and recovery through our development cooperation program.