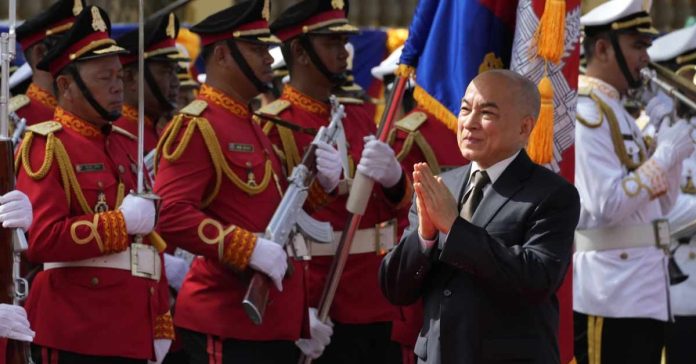 PHNOM PENH, Cambodia (AP) — Cambodia's king congratulated the country's new lawmakers on Monday, urging them in his traditional speech to the National Assembly on its first day following elections to promote economic growth and equality.
The Cambodian People's Party under longtime authoritarian Prime Minister Hun Sen won a landslide victory in elections last month, taking 120 of 125 seats in the lower house of Parliament after successfully stifling all credible opposition.
The new government is undergoing a generational change, however, as Hun Sen hands off the premiership to his eldest son, Hun Manet, and many key Cabinet ministers are being replaced — mostly also by the children or relatives of incumbents.
In Hun Sen's nearly four decades in power, Cambodia saw a dramatic increase in its standard of living, though the gap between the wealthy and poor has increased.
King Norodom Sihamoni, Cambodia's largely symbolic figurehead, told lawmakers he hoped the next five years would see continued economic growth, as well as increased social protections for the country's people.
Later Monday, the king and two Buddhist monks are to preside over the official swearing-in of the new lawmakers. Hun Manet and his Cabinet are to be sworn in on Tuesday.
Despite handing the prime minister's job to his son, 71-year-old Hun Sen is expected to retain a large amount of control as president of the Cambodian People's Party and as the Senate president.
He has said that relinquishing the premiership "is not the end yet" for him and that he would serve in other positions at least until 2033, which would bring him to a half-century in office.
After barely overcoming a significant election challenge from the opposition Cambodian National Rescue Party in 2013, Hun Sen went after its leaders and the country's sympathetic courts eventually dissolved the party.
Ahead of July's election, the unofficial successor to the CNRP, known as the Candlelight Party, was barred on a technicality from running in the election by the National Election Committee.
European Union criticized the vote as having been conducted in a restricted environment that hindered the functions of the opposition, civil society, and media. The United States assessed the elections as "neither free nor fair."
___
BY SOPHENG CHEANG Associated Press