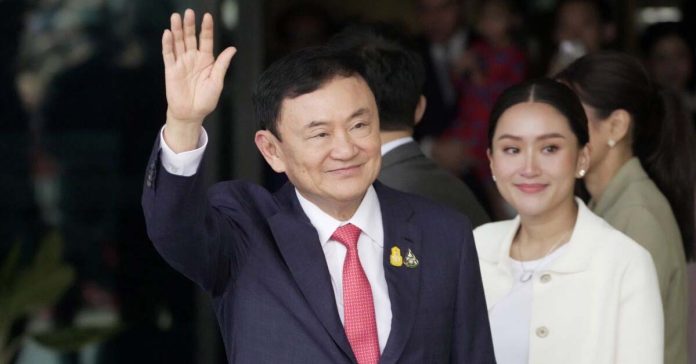 BANGKOK (AP) — Thailand's Parliament on Tuesday began voting in a second attempt to choose a prime minister, hours after ex-Prime Minister Thaksin Shinawatra returned to Thailand after years of self-imposed exile and entered the prison to begin serving an eight-year sentence.
The Thaksin-linked Pheu Thai Party proposed former property developer Srettha Thavisin as the head of an 11-party coalition that includes two parties allied with its former military adversaries, holding 314 seats in the 500-member House of Representatives.
Srettha also needs support from the non-elected Senate, appointed by a previous military government. Both houses of Parliament vote together for prime minister under a military-implemented constitution, and senators, like the army, see themselves as guardians of traditional conservative royalist values.
Srettha is not a member of parliament and does not appear to be present for the vote.
Pheu Thai is the latest in a string of parties formed by Thaksin or his allies, two of which were removed from power by military coups, resulting in years of upheaval and division that pitted a mostly poor, rural pro-Thaksin majority in the north against royalists, the military and their urban backers.
Thaksin has said his decision to return has nothing to do with the Pheu Thai party's bid for power, but many believe the party made deals with pro-military parties to facilitate the 74-year-old billionaire's return.
Thaksin's private jet landed around 9 a.m. local time in Bangkok, where he was welcomed by family and supporters.
After walking out of the airport, Thaksin placed a flower wreath and prostrated himself before a portrait of Thailand's king and queen. He spent a moment greeting supporters and the media waiting in front of the terminal but did not speak.
Hundreds of his supporters gathered outside of the airport hours ahead of his arrival, donning red, a color long associated with Thaksin, and holding sign with welcoming messages. They showed their devotion to him with songs and chants, then raised raucous cheers when he appeared at the entrance.
"I feel fulfilled that I traveled here today to pick him up. If possible I want to hug him. Everyone has tears, tears coming out of their eyes," said Makawan Payakkae, a 43-year-old from Maha Sarakham province.
Decades ago, Thaksin promoted populist policies and used his telecommunications fortune to build his own Thai Rak Thai party and be elected prime minister in 2001 and easily reelected in 2005, before being ousted in a military coup in 2006 and fleeing into exile a few years later. Thaksin was tried in absentia on corruption charges he dismissed as politically motivated, and sentenced to eight years in prison.
His convoy went from the airport to the Supreme Court, where a special body that handles criminal cases against former officeholders confirmed the sentence. He then left the court and went to Bangkok's main prison.
Correctional officers at Bangkok Remand Prison said in a news conference that following a medical check, Thaksin had been categorized as "vulnerable" due to his age and chronic conditions affecting his heart and lungs, including high blood pressure.
He will be quarantined for at least 10 days as a new inmate, officials said, adding that he is now confined at the prison's medical wing alone and will be monitored at all hours due to safety and health concerns.
In what could be perceived as a special treatment, officials said Thaksin has not yet received the severe crew cut associated with Thai prisoners.
"The rule for haircuts is they have to be crew-cuts. But if it's not too long, it doesn't need to be trimmed in a hurry. In prison, hair needs to be cut according to the rules but his hair won't be like other typical inmates: we have to also consider his age," said Ayuth Sintoppant, director-general of the Department of Corrections.
It isn't clear yet how long Thaksin will actually serve of his prison sentence. Officials have said he, like other inmates, can apply for a royal pardon from day one.
His daughter Paetongtarn Shinawatra, a key figure in Pheu Thai, posted family photos with Thaksin in the middle on Facebook with a message thanking people who went to the airport to welcome her father, saying "me and my family are very grateful."
Less than a week before May elections, Thaksin announced he would like to return before his birthday in July, but the plan was repeatedly delayed, with he and Paetongtarn citing both post-election uncertainties and his health.
Pheu Thai came in second in the elections but took over leadership in forming a new government after the surprise winner, the progressive Move Forward Party, was repeatedly rejected by conservative senators appointed by a previous military government.
Move Forward's reform agenda appealed deeply to many Thais, particularly younger voters who were disenchanted by nearly a decade of military-backed rule, but was seen as a threat by the country's conservative elites.
Pheu Thai has been heavily criticized by some of its supporters for backtracking on a pre-election pledge not to join hands with pro-military parties. Party officials have defended the decision by saying it was necessary to break the political deadlock and seek reconciliation after decades of deep political divisions.
Thaksin was ousted while he was abroad in 2006. He came back briefly to Thailand in 2008 to face a court trial before fleeing the country. He has avoided returning over concerns he would not be treated fairly by the military-backed government and establishment that has long held a sharp animosity toward him.
He has remained active in Thai politics, however, often making video calls to rallies of his supporters and parties backed by him.
"Thaksin's plans to return to Thailand were postponed after the election results were announced — this implies a strong connection between the election, formation of coalitions, and selection of the prime minister on one hand, and Thaksin's personal agenda on the other," said Napon Jatusripitak, a political science researcher and visiting fellow at Singapore's ISEAS-Yusof Ishak Institute.
"Thaksin has managed to make this election about himself personally, and the direction of a Pheu Thai-led coalition heavily depends on his personal whims."
Napon said Thaksin's decision to return now suggests that "he has received assurances that he will not have to serve a prison sentence in full."