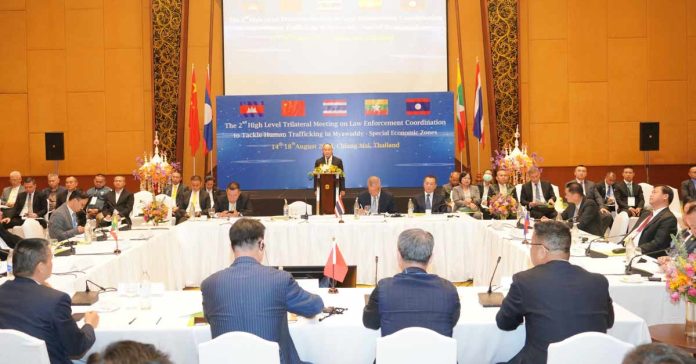 Lao Ambassador to Myanmar Heuangseng Khamdalavong met with Thai Ambassador Mongkol Visitstump and Chinese Ambassador Chen Hai in Myanmar on Tuesday to discuss a joint operation to curb illegal gambling and fraud in the region.
The three ambassadors expressed their shared concern about the serious impact of rampant gambling and fraudulent activities in the region and on the lives and property of people living in Myanmar, including citizens of Laos, Thailand, and China.
They also expressed concern about the increasing cases of illegal activities, and the three embassies agreed to work together to help Myanmar rescue victims of gambling and scamming and apprehend the groups responsible for these crimes.
Additionally, the four countries' police forces—the Lao Ministry of Public Security, the Chinese Ministry of Public Security, Thailand's National Police, and the Myanmar Police Force—held a two-day meeting last week in Chiang Mai, Thailand, to launch a joint operation to combat gambling, fraud, human trafficking, kidnapping, and other crimes, especially in border areas.
The four countries decided to establish a specialized coordination center in Chiang Mai to combat gambling fraud and detain criminal groups by enhancing cooperation and coordination efforts to conduct effective crackdowns against them.