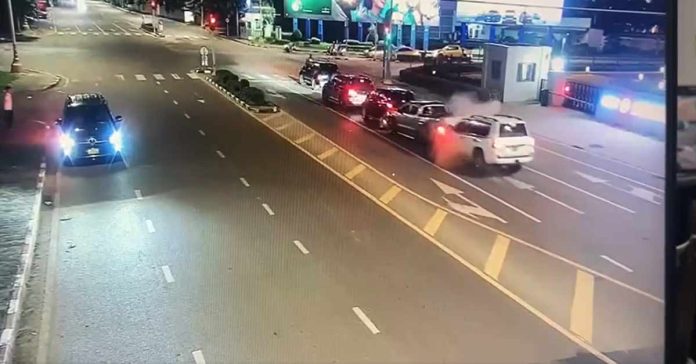 A white SUV rear-ended four vehicles at a traffic light in Phonesart Village, Vientiane Capital, on Wednesday night. The crash disrupted traffic and caused one severe injury.
At around 10:30 p.m., three black SUVs and one silver pickup truck were waiting at a red traffic light when a white SUV approached the intersection rapidly, without using the break. The white SUV truck severely rear-ended the silver pickup truck ahead of it, causing it to hit the car in front of it, and so on, causing a chain reaction of sorts.
The Deputy of the Vientiane Capital Traffic Police Department, Lieut. Colonel Dethluesa Sayyasan, informed Lao National Radio this morning that the driver of the white SUV was drunk and nearly dozing off while driving the car.
A witness to the accident reported that one person was severely injured and three others suffered first-aid injuries.
While many social media users expressed concern about who would pay for the damages, Lieut. Colonel Dethluesa confirmed that the driver of the white SUV will be liable for the full cost of the repairs of all the vehicles impacted by the accident.
Following the accident, the police have urged drivers to be cautious and obey traffic laws, especially to maintain a safe speed and not drive under the influence of alcohol or drugs.
Road accidents are a serious issue in Laos; just in July, the Traffic Police Department (TPD) of Laos reported that the country recorded 560 road accidents, resulting in 92 deaths, with overspeeding and drunk driving being the leading causes of accidents, accounting for 327 cases.