Police in Xay District, Oudomxay Province destroyed gambling items that were earlier seized from illegal casinos and hotels on Monday.
In June, provincial police searched three gambling establishments in the area of the Xay District before seizing gambling-related items from the hotels.
Following the seizure, Oudomxay police detained five suspects who were involved in running a gambling operation with slot machines and other varieties of gambling equipment.
The head of the Criminal Investigation Division, Major Phonedeth Vongsavanh, revealed that various items were seized, including three blackjack tables, three electronic gambling machines, 66 monitor screens, two roulette tables, and 1,179 card boxes.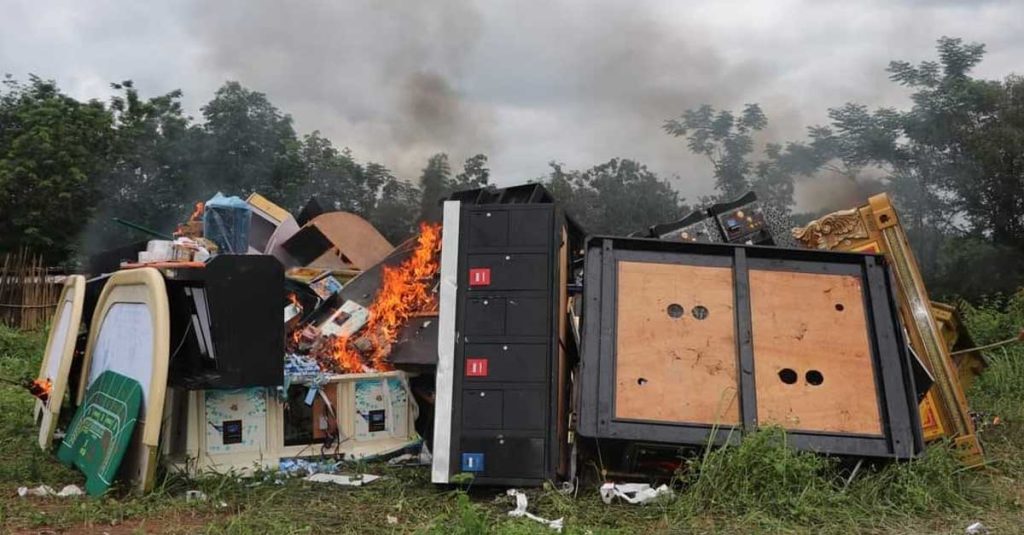 A police official from the Oudomxay Provincial Police Headquarters told the Laotian Times that the identities and personal information of the five suspects cannot be disclosed at this time as police in the province are still investigating another gambling network connected to them.
According to him, some foreign businesses, mostly owned by Chinese investors, claim to operate as hotels or shops and operate illegal gambling operations in the province.
To combat such activities, Lao Ambassador to Myanmar Heuangseng Khamdalavong met with Thai Ambassador Mongkol Visitstump and Chinese Ambassador Chen Hai in Myanmar in August to discuss a joint operation to curb illegal gambling and fraud in the region.