KUALA LUMPUR, MALAYSIA –
Media OutReach
– 4 September 2023 – In honour of the National Day and Malaysia Day celebrations, BEST Express Malaysia is delighted to announce its latest campaign, "BEST Season. BEST Delivery."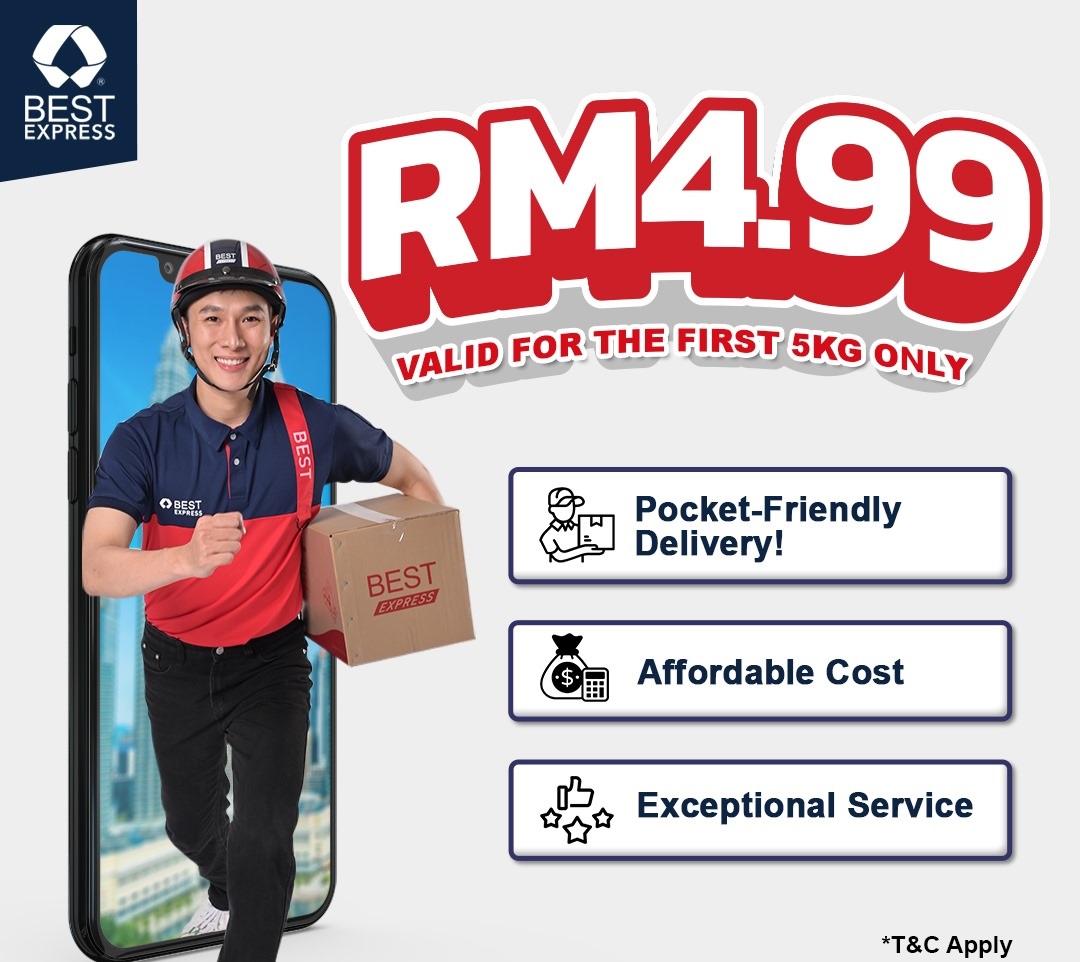 This campaign offers customers an opportunity to enjoy an exclusive promotion rate of RM4.99 (price before SST) for the first 5 kg of shipments within Malaysia. The promotion has started since 1st September 2023 and will run throughout the campaign period.
"It's a privilege to introduce the 'BEST Season. BEST Delivery.' campaign in Malaysia. With the "BEST Season. BEST Delivery." campaign, the company reinforces its mission to empower businesses and individuals with accessible, affordable, and dependable delivery solutions. Our goal is not only to deliver parcels but to deliver experiences," said Jessy Sun, General Manager of BEST Inc Malaysia and Singapore.
As part of this campaign, BEST Express Malaysia is offering exclusive shipping rates designed to empower sellers in optimizing their delivery operations. By providing access to these advantageous rates, the company is extending a helping hand to businesses of all sizes, enabling them to enhance their competitiveness and profitability.
This campaign marks a significant step in BEST Express Malaysia's ongoing efforts to revolutionize the delivery industry. As the company continues to invest in cutting-edge technology and streamlined operations, it aims to redefine customer expectations for shipping reliability and cost-efficiency.
The campaign is available to all BEST Express Malaysia users, including both General Users and Key Account customers. Customers can take advantage of this special offer by creating consignment notes for eligible shipments within the campaign period. The eligible shipments include deliveries:
from Peninsular Malaysia to Peninsular Malaysia
from Sabah to Sabah
from Sarawak to Sarawak
" We're not only offering cost savings but also reinforcing our position as a provider of choice in the delivery industry."
" Our customers are at the heart of everything we do, and the 'BEST Season. BEST Delivery.' campaign is a token of our appreciation for their trust and loyalty. With this promotion, as we roll out this campaign, we're reminded of the strong partnerships we've built with our customers," Jessy Sun continued.
For more details, contact or walk into the nearest branch:
https://www.best-inc.my/fstatic?type=serviceLocation
Hashtag: #bestexpressmalaysia #expressdelivery #parceldelivery

https://www.facebook.com/BESTExpressMalaysia

https://www.instagram.com/bestexpressmalaysiaofficial/
The issuer is solely responsible for the content of this announcement.
BEST Express Malaysia
BEST Express Malaysia started its operations in April 2020, possess the courier license issued by Malaysian Communications and Multimedia Commission (MCMC).

BEST Express has expanded steadily and procured 10 hubs and more than 300 stations nationwide, with the capacity of 200,000 parcels daily, and the number is growing day by day.

For more information, please visit:

https://www.best-inc.my/