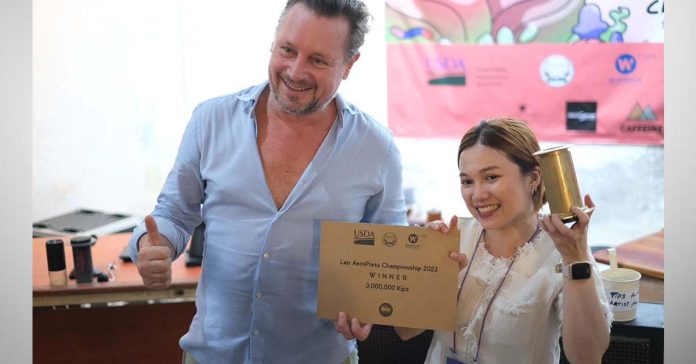 Malavanh "Bobby" Daphasouk, a 28-year-old barista from Slurp Cafe Vientiane, emerged as the champion of the coffee-making competition, Laos AeroPress Championship 2023, held in Vientiane Capital from 1-3 September.
Hosted by Dam Dam, a distinguished Lao specialty coffee company, the Laos AeroPress Championship 2023 drew to a close, with the announcement of one winner, and two contestants being awarded the second and third spot. Bobby stood out by securing the coveted first place, earning the exclusive opportunity to represent Laos at the World AeroPress Championship which will be held in Melbourne, Australia from 1-3 December.
Elated by her victory, Bobby expressed her joy and surprise while speaking with the Laotian Times, "I am genuinely happy and excited to have achieved such a feat. I never thought that I had what it takes to secure such a big win."
Reflecting on the challenges she faced during the competition, Bobby highlighted the limited time and unfamiliarity with the provided ingredients. She said, "I had never tasted some of the coffee ingredients presented at the competition before, like the water provided by the sponsor."
Bobby then extended her gratitude to her supportive friends, who sampled her coffee during her rigorous training for the competition, helping her craft the perfect recipe to impress the judges.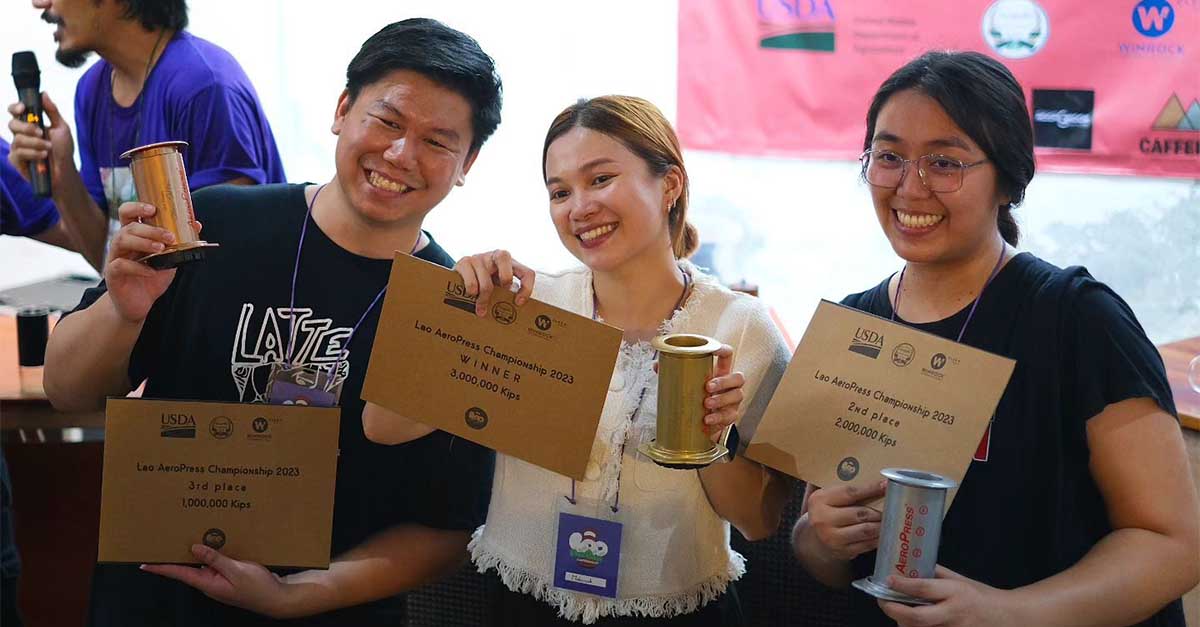 In a motivating message to future contenders at the competition, Bobby said, "It will be a lot of fun for any coffee lover! You will also get to meet new friends and gain valuable experience."
According to David Viron, the organizer of the Laos AeroPress Championship 2023 and CEO of Dam Dam who also spoke with the Laotian Times, Bobby will dedicate three months to rigorous training, to ensure she is technically and mentally prepared for the global competition in Melbourne.
David elaborated on the competition's history, revealing that the 2023 championship was the second edition, with the first event taking place last year. He plans to host the event in 2024 as well, but exclusively for Lao nationals, aiming to inspire and empower local talents to believe in their potential on the world stage.
"As an organizer in Laos, I want to give a platform to Lao people during the first three years, from 2022 to 2024, before opening it up to participants from other nations so that local baristas are inspired to participate and feel a part of the global coffee community," David explained.
Regarding the future, David announced that in 2025, the competition will be open to participants of all nationalities, provided they have resided in Laos for more than six months. This expansion will promote diversity and inclusivity within the coffee community in Laos.
Additionally, David is currently spearheading a fundraiser to support Bobby's journey to Australia for the World AeroPress Championship in Melbourne. The fundraiser aims to secure sponsors for visa applications, flight tickets, and accommodation, ensuring that Bobby can proudly represent Laos on the global coffee-making stage.
The World AeroPress Championship, founded in 2008, boasts over 120 regional and national competitions annually across 60 countries, involving over 3,000 participants.
Competitors have a 5-minute window to brew a single coffee with an AeroPress, which is then judged blindly by industry professionals. The 2023 event marks the competition's fifteenth anniversary, featuring brew-offs, Café Takeover, and sponsor-run activities by ROEST, Brewista, and MACAP.