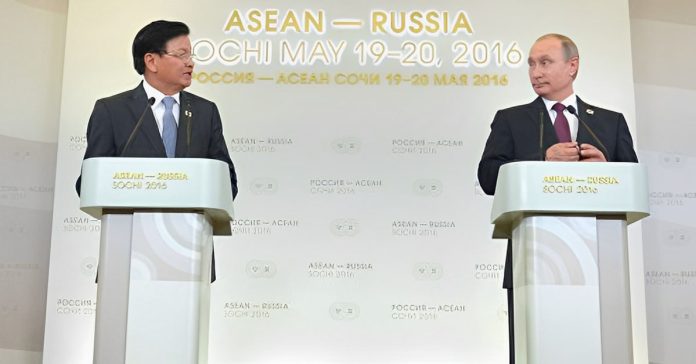 Following the end of the ASEAN Business and Investment Summit (ABIS-2023) in Jakarta, Indonesia, Russia has urged for the ABIS-2024 to be held in Laos.
Chairman of the ASEAN-Russia Business Council Ivan Polyakov said that the ASEAN-Russia Summit 2024 should be held in Laos, as the latter will chair the ASEAN-Russia Business Advisory Council.
The proposal was discussed with the co-chairs of the Lao ASEAN Business Advisory Council, Oudet Souvannavong, President of the Lao Chamber of Commerce and Industry, and Thanongsinh Kanlagna, President of the Lao Information and Communication Technology Association.
According to Polyakov, Russia needs to work with the bloc's members in a wide range of areas, to help push the dynamic development of the region and expand the access of ASEAN businesses to the Russian and Eurasian markets.
He also noted that Laos has a good track record of coordinating dialogue partnerships between Russia and ASEAN countries. 
From 2015-2018, cooperation between Vientiane Capital and Moscow has led to intensified developments in the fields of trade, economic, and investment cooperation in the bloc's countries. Important goals regarding the ASEAN-Russia bilateral agenda were also realized during this time.
Russia will continue to host Laos for further consultations regarding the ASEAN-Russia Summit in 2024, as the Lao ASEAN Business Advisory Council delegation will be attending the Eastern Economic Forum in Vladivostok, Russia, this month.
The first ASEAN-Russia summit took place in Kuala Lumpur, Malaysia on 13 December 2005. 
Diplomatic relations between Laos and Russia were established on 7 October 1960.