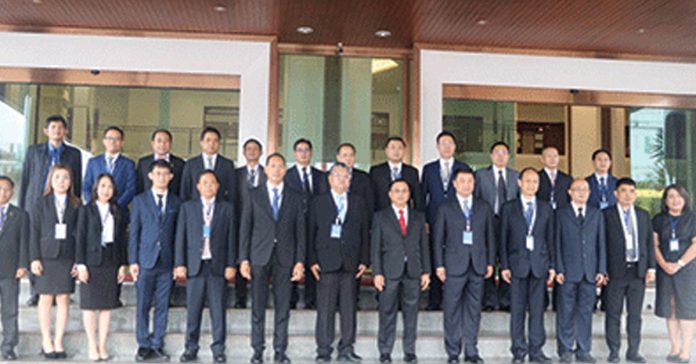 Customs officials from Laos, China, and Thailand met in Vientiane Capital on Monday, 11 September, to discuss ways to streamline customs procedures at border crossings along the Kunming-Bangkok Highway and the Lancang-Mekong River.
The meeting, which was held from 11 to 13 September, discussed ways to prevent the smuggling of goods across borders and share intelligence on the illicit import and export of drugs, drug precursor chemicals, waste, counterfeit goods, and other illegal items.
According to the Vientiane Times, officials from the three countries discussed ways to ease cross-border transport, including the transport of freight on the Laos-China Railway, inspecting agricultural produce, and resolving customs clearance issues at different border crossings.
Additionally, they mulled over ways to make customs procedures more efficient and effective while still enforcing customs laws to boost trade and commercial activities between the three countries and improve tax cooperation under the Lancang-Mekong River framework.
Mr. Phoukhaokham Vannavongxay, Director General of the Lao Customs Department, said that the meeting was a valuable opportunity to strengthen mutual trust and cooperation between customs authorities by exchanging knowledge and experiences to facilitate trade at borders.
"This meeting is a golden opportunity to learn from each other and share ideas and experiences to further enhance mutual trust and deepen customs cooperation to simplify trade and enable effective and smooth customs clearance at borders," said Mr. Phoukhaokham.
"This will foster the sustainable development of trade relations between the three countries and create a brighter future for Lancang-Mekong customs cooperation," he added.
Following the meeting, the officials paid a visit to the Lao Customs offices at the Thanaleng Dry Port, the largest customs checkpoint in Laos.
The trilateral meetings between Laos, China, and Thailand are part of the Lancang-Mekong Cooperation Framework, a regional initiative that was established 10 years ago to promote tax cooperation in the Mekong-Lancang River region, along the Bangkok-Kunming and Mekong-Lancang River routes.