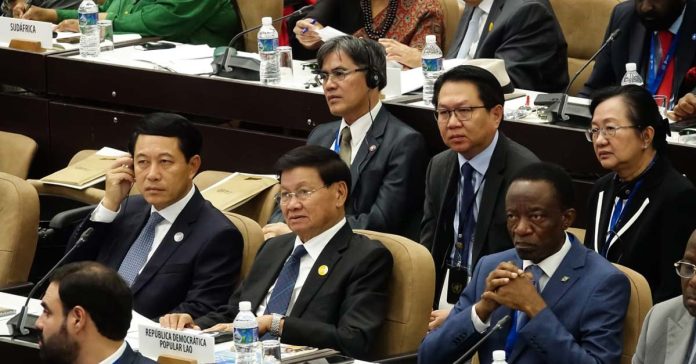 Lao President Thongloun Sisoulith led the Lao delegation to attend the G77+China summit in Cuba on 15–16 September, where he called for international cooperation towards the progress of science, technology, and innovation to promote sustainable development in participating countries.
The summit, themed "Current Development Challenges: The Role of Science, Technology, and Innovation," was chaired by Miguel Diaz-Canel, President of Cuba, and attended by high-level leaders from member countries, the UN Secretary-General António Guterres, and representatives from international organizations.
At the summit, leaders from member countries discussed ways to use science, technology, and innovation (STI) to address global challenges while also reaffirming their commitment to strengthening the unity of the largest group of developing countries in the UN.
In his speech, President Thongloun congratulated Cuba on hosting the G77+China summit and assessed the implementation of the 2030 Agenda for Development, noting that developing countries are facing economic recession, which is hindering their progress towards meeting their Sustainable Development Goals (SDGs).
President Thongloun called for new ways to restore socio-economic conditions by using modern information technology to support the implementation of the international development agenda and achieve SDGs.
President Thongloun also assured that Laos has prioritized science, technology, and innovation to solve challenges and promote green growth and the digital economy.
"The Lao government is committed to using science, technology, and innovation to address challenges and promote sustainable and digital economic growth," said President Thongloun while emphasizing the need for international support for building infrastructure, human resource development, and investment in STI sectors.
He proposed creating a stronger cooperation mechanism to encourage developing countries to research, develop, and use STI as a driving force for sustainable development.
President Thongloun and his delegation arrived in Cuba on 11 September and also met with the Cuban President and Prime Minister to strengthen bilateral ties and cooperation.