There's a blurred line between cultural appropriation and artistic appreciation in the global fashion industry. But the boundaries become even more difficult to draw when fashion giants reproduce motifs from minority ethnic groups' garments.
It was April 2019 when the popular fashion brand Max Mara was thrown into the eye of the storm for featuring motifs and designs of the Oma Lao ethnic group's traditional clothing. The Oma, a small ethnic minority community from the remote northern highlands of Laos, were not credited in the name of the garment, on tags, or online, as the motifs were digitally duplicated and printed onto dresses, skirts, and blouses for mass production.
The Traditional Arts and Ethnology Centre (TAEC), an ethnographic museum and cultural center in the UNESCO World Heritage Site of Luang Prabang, promptly condemned the activity and launched the #MaxOma social media campaign. Max Mara then responded by letter that they were simply "inspired" by the designs, and threatened legal action. No wrongdoing was ever admitted.
Today, four years after the scandal, the fashion world seems to be no different.
In October this year, the TAEC unveiled its latest exhibition, Claiming Inspiration: Artisans, Culture, and Commercialisation, which explores the boundary between cultural appropriation and artistic appreciation in the global fashion industry and sheds light on the growing field of Cultural Intellectual Property Rights. This multimedia exhibition explores cultural misappropriation in the global fashion industry through the experiences of Laos' Oma ethnic group and traditional communities in Africa, Eastern Europe, and South America.
TAEC has been working alongside the Oma since 2010 to help document and preserve their cultural and textiles traditions. Living in Phongsaly Province, the Oma live in seven remote villages with limited access to the global commercial market. This ethnic group has a strong sense of cultural identity and much of the outward demonstration of that is through their traditional dress.
"We are the Oma people, and we preserve our culture by making and wearing our traditional clothes," said Khampheng Loma, former chief of Nanam Village.
Claiming Inspiration is a collaboration between TAEC and the Oma. The impetus came when it was discovered that traditional Oma motifs and designs were copied by the Italian fashion house without consent or credit. Despite a global social media campaign, no wrongdoing was ever admitted.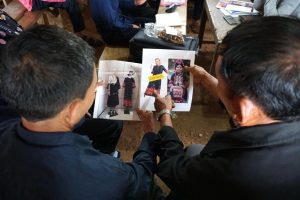 INADEQUATE PROTECTION
The use of cultural designs without credit and compensation has long been commonplace within the fashion industry, and protections such as copyright, trademark, and geographical indication exist, do not adequately protect traditional knowledge and cultural expressions.
There is currently no international legal framework obliging companies to seek consent from or to pay compensation to communities for their shared cultural knowledge. This can be highly damaging to the cultural sustainability of these communities as well as a risk to the economies of countries like Laos, with large handicraft sectors that are crucial to rural supplementary income generation, particularly for women.
Organizations such as TAEC and the Cultural Intellectual Property Rights Initiative (CIPRI) have been working to bring attention to this gap in protections for traditional knowledge, and find paths for collaboration between communities and fashion companies, together with international bodies such as the World Intellectual Property Organization (WIPO).
To this end, TAEC's Claiming Inspiration exhibition highlights how pervasive the problem is, with displays of traditional clothing from Kenya, Mexico, and Romania that have been used as "inspiration" by designers in the past. Along with an interactive display that includes video and digital resources, the exhibition raises compelling questions about the history of appropriation in the fashion industry and how to instead encourage creative collaboration.
"In this exhibition we wanted to highlight the richness and creativity of traditional knowledge and designs, and how they are just as deserving of legal protections and investment. "Traditional" can be "fashionable", we just need to find a new design paradigm," said Tara Gujadhur, TAEC Co-Director.
The Claiming Inspiration exhibition is supported by the European Union Delegation to the Lao PDR and Voice Laos, in partnership with the Cultural Intellectual Property Rights Initiative® (CIPRI).
"Claiming Inspiration: Artisans, Culture, and Commercialization" will be on display through August 2025. TAEC is located on the foot of Phousi Hill in the historic city of Luang Prabang, Lao PDR. The exhibition is open Tuesday – Sunday, 9am to 6pm. Entry tickets are 30,000k.