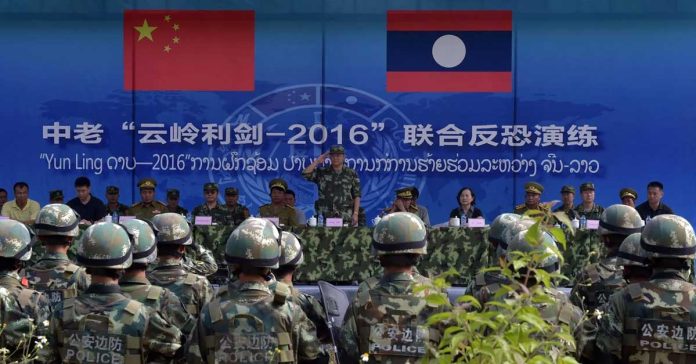 The Lao People's Armed Forces departed to join an anti-terrorism exercise in China on 11 November.  Collaborating with military counterparts from four Southeast Asian nations, Laos is set to participate in a series of joint drills, dubbed "Aman Youyi 2023," in Zhanjiang, a port city in Guangdong, southern China, from mid to end-November. 
The participating countries include Laos, China, Cambodia, Malaysia, Thailand, and Vietnam, and the exercises will encompass both land and marine counterterrorism and security operations.
This collaborative effort represents the fifth edition of the routine "Aman Youyi" military drills between China and Southeast Asian countries and aims to promote mutual trust in the region and bolster response capabilities. 
According to a statement from the Chinese Defense Ministry on 12 November, the primary objectives of these exercises are to enhance urban and maritime counterterrorism skills, deepen military mutual trust, foster pragmatic cooperation, and collectively contribute to maintaining regional peace and stability.
Since China and Malaysia started the drills in December 2014, this is a historic occasion, as China will host the multinational exercise for the first time. Thailand joined in 2018, when 1,225 personnel, four warships, three large transport aircraft, and three helicopters from the participating nations joined the drills.
This year, Laos, Vietnam, and Cambodia are participating for the first time, effectively doubling the number of countries involved. 
Recent clashes between the Philippines and China over the Second Thomas Shoal, a disputed island in the Spratly Islands, further highlight the complexities in the region. Manila has deemed Chinese actions "illegal" and "dangerous," while Beijing considers the Philippines' moves a violation of Chinese territorial sovereignty and the Declaration on the Conduct of Parties in the South China Sea.
As these dynamics unfold, the success of joint exercises and diplomatic efforts remains crucial for fostering stability across the region.