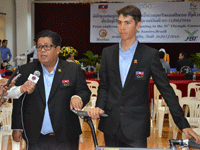 Laos' top male cyclist Ariya Phounsavath will be the nation's sole representative in the sport at the 31st Olympic Games at Rio de Janeiro, Brazil from August 5-21.
Ariya has a tough task ahead of him taking on the best riders in the men's 250km Cycling Road Race but the 25-year-old from Vientiane remains undaunted.
Lao Cycling Federation coach Mr Latsamy Soondala said the International Cycling Union (UCI) agreed to give Ariya the opportunity to compete in the 250km race because of his impressive record in previous international events.
Mr Latsamy and Ariya will travel to Brazil on July 31 with the race day set for August 6.
"There will be 145 cyclists co mpeting in the event so it will be difficult for Ariya to beat so many strong opponents but he is hoping to surprise quite a few," Mr Latsamy said.
Under UCI rules some countries have up to six cyclists competing at the games.
Ariya is a professional cyclist and has taken part in cycling events in France for several years. He previously participated in CCN Sportswear sponsored training camps in Vientiane along with many Asean level cycling events.
Mr Latsamy said the cycling federation had six cyclists (aged 18 to 22) at a CCN training camp who are currently competing at an event in Indonesia.
The cyclists will also have the opportunity to compete at the 29th SEA Games in Malaysia in 2017 and other international events.
He said Ariya would be able to lean on his Olympic experience for the 29th SEA Games next year while still competing in France.
Ariya won a gold medal at the 27th SEA Games in Myanmar in 2013 and placed 23rd at the Asian Games in the Republic of Korea in 2014.
He currently lives in Xokkham village, Xaysettha district, Vientiane and developed his enthusiasm for cycling from his parents who have supported him in the sport since he was 10 years old.
Source: Vientiane Times