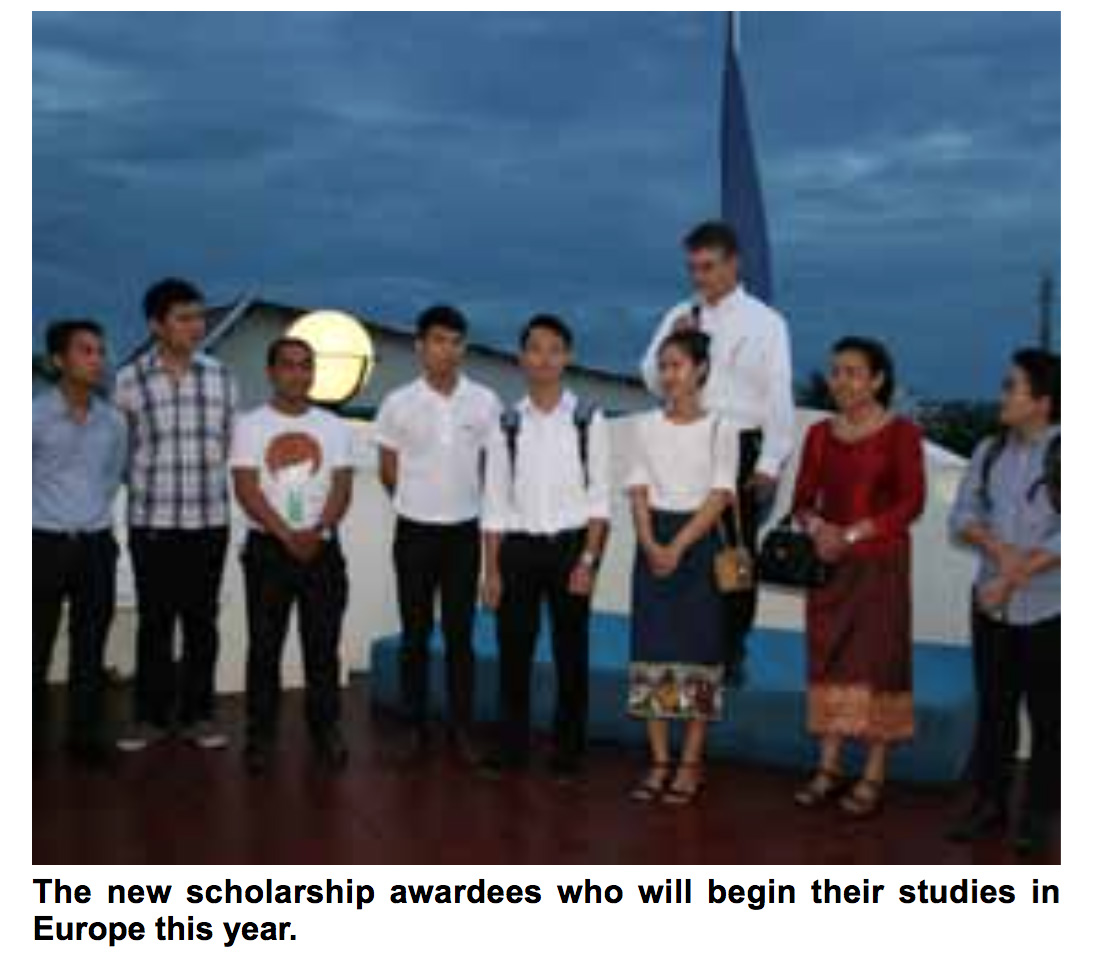 Twelve Lao students have been granted scholarships to study in Europe this year under the European Union Erasmus Mundus Programme.
The scholarship awardees will head to EU member countries including Cyprus, the Czech Republic, France, Poland and Portugal to embark on their studies at levels ranging from doctorate degrees to professional training.
This year, two people will embark on bachelor degrees, five will take master's degrees, three will begin a doctorate programme, and one will undergo professional training.
The EU Delegation in Vientiane on Friday organised an annual meeting with former EU Erasmus Plus scholarship recipients to bid farewell to the 12 students.
The event was attended by EU Chargé d'Afffaires Mr. Michel Goffin, officials from the Ministry of Education and Sports, Ministry of Foreign Affairs and National University of Laos, as well as diplomats from EU Member States' embassies and former and new Erasmus students.
The EU Erasmus Plus International Credit Mobility offers financial support for institutions and scholarships for individuals.
It aims to enhance quality in higher education through scholarships and academic
etween Europe and the rest of the world and improve third countries' students and staff career prospects.
Another 31 scholarships granted under the 2015 partnership programmes will be made available to students from Laos in the coming years.
Speaking at the event, Mr. Goffin said education plays a crucial role in the development of any country.
"By promoting academic exchanges between Europe and the rest of the world including Laos we are contributing to bringing back to Laos highly qualified young women and men for better development of the country," he said.
"Laos should also lay down concrete foundations for international higher education programmes to make sure they also receive students and staff members from partner universities in Europe and the region, who wish to learn and teach here during this time of regional integration."
"I encourage interested people from Laos to prepare well before they apply for the programme, in particular their language skills, to ensure a higher success rate," Mr. Goffin added.
Since 2004, more than 250 Erasmus scholarships have been awarded to Lao students to carry out professional training, undergraduate, master and doctorate degrees in European countries.