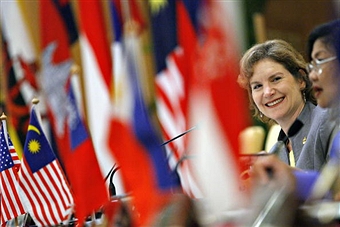 The value of ASEAN-US bilateral trade and investment has reached US$212.8 billion and accounted for 9.3% of ASEAN's total trade.
Foreign direct investment (FDI) flows from the US to ASEAN amounted to US$12.2 billion in 2015, as per ASEAN statistics, placing the US as ASEAN's third largest source of FDI.
The US remains one of the largest investors in the ASEAN region in terms of cumulative FDI, reaching over US$273.4 billion in 2015.
The consultation between ASEAN ministers and the United States Trade Representative was held in Vientiane on Aug 4 where the ministers expressed pleasure with the success of the AEM Roadshow to the US, which was held on Feb 17-18, back-to-back with the special US-ASEAN Leaders Summit in Sunnylands, California.
Focusing on innovation and entrepreneurship, the roadshow further strengthened ASEAN-US connections and generated increased awareness of the presence ASEAN as a regional and vital trade partner of the US.
The ASEAN ministers noted the progress in implementing US-ASEAN Connect as the new strategic framework for coordination of the extensive US economic engagement with the ASEAN region to deepen and strengthen the economic relations as well as the progress of the implementation of the US-ASEAN Trade Workshops, announced by President Obama during the Special US-ASEAN Summit.
The ministers welcomed the progress in implementing the ASEAN-US Trade and Investment Framework Arrangement and the Expanded Economic Engagement Initiative Work Plan.
ASEAN ministers expressed their appreciation to the US for its continued support in the areas of the ASEAN Single Window, facilitation of trade, small and medium enterprises, energy as well as the development of information and communication technology through USAID's project ASEAN Connectivity through Trade and Investment and look forward to its extension to support the ASEAN 2025 agenda.
Source: KPL