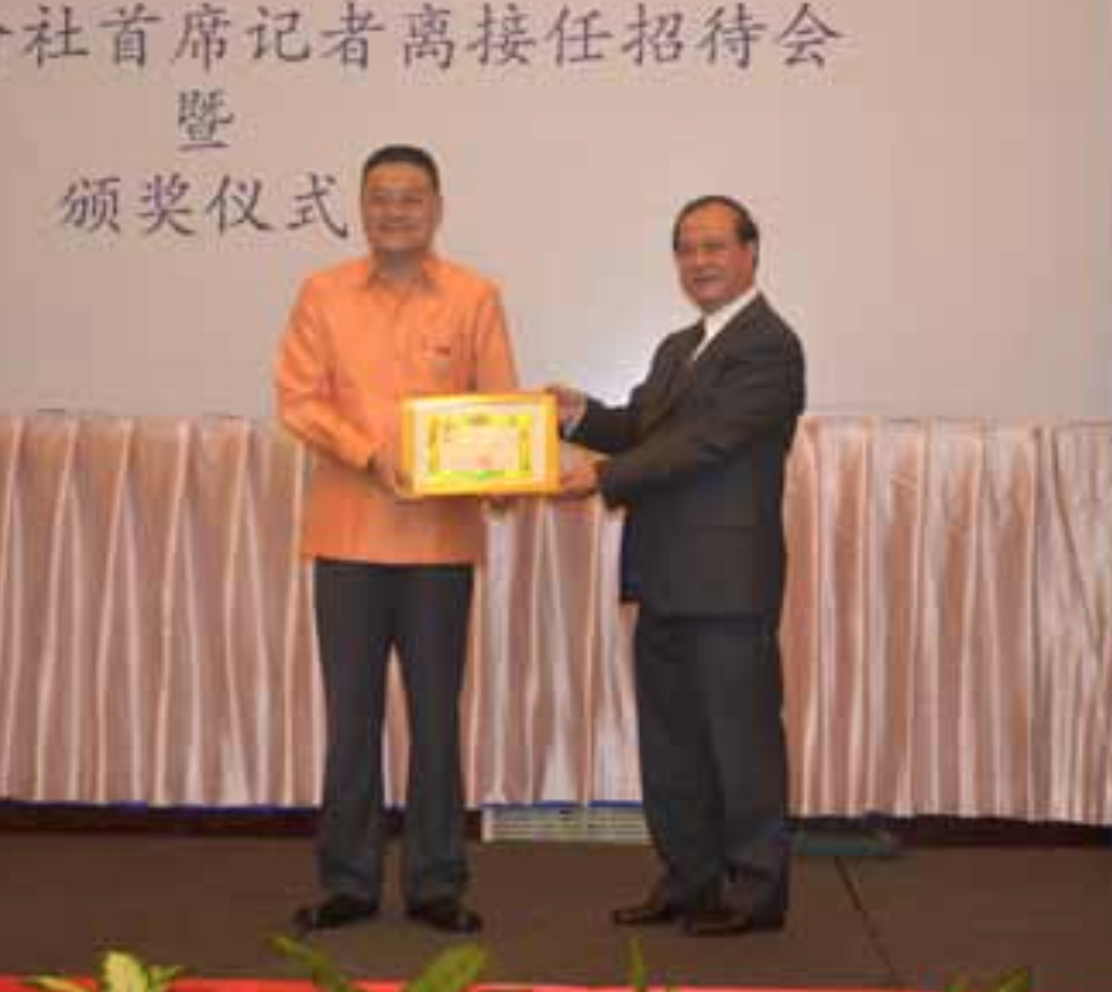 The Lao government handed over a friendship medal to Xinhua News Agency's Vientiane Bureau Chief on Monday night who is completing his term of service of international news coverage in Laos.
Minister of Information, Culture and Tourism Prof. Dr Bosengkham Vongdara presented the medal to Xinhua News Agency's Mr. Rong Zhong Xia who is soon set to complete his term of service.
The citation issued by Prime Ministerial Decree 2016/168 recognised Rong service to duties in Laos requiring wisdom and hard work including fostering cooperation between Xinhua as China's State News Agency and its Lao counterpart Lao state news agency KPL, whose ongoing relationship and timely information-sharing has made important contributions to strengthening friendships and fostering deeper understanding between Laos and China and elsewhere abroad.
Director General of Lao News Agency Mr. Sounthone Khanthavong paid tribute to Xinhua's efforts at informing people in China and the world about Laos' various achievements and ongoing developments witnessed over four decades as the country celebrated the 40th anniversary of its establishment as a People's Democratic Republic at the end of 2015.
He also hailed the positive contribution to strengthened bonds of fraternity between the country's respective ruling Parties, governments and people to achieve further deepening of traditional friendships which had been made possible through these efforts.
Mr. Rong said Sino-Lao bilateral friendly and cooperative relations had witnessed rapid development and broad space for increased cooperation between the two countries remained.
Expressing thanks and humility in accepting the prestigious award, he paid tribute to Laos as a country of blue skies, clear waters and friendly people and willingness to promote the country and its people's prosperity no matter where he went in the future.
"Chinese who come to Laos cannot but fall in love with the place," Rong said.
Commencing in June 2012 and to conclude soon, Rong's tenure reporting on events and issues in Laos has included the country's ongoing chairmanship of the Association of Southeast Asian Nations that includes the hosting of the 28th and 29th ASEAN Summits and associated dialogue partner meetings set for September 6-8 in the Lao capital in a year that also marks meetings and celebrations on 25 years of Asean-China dialogue relations.
Source: Vientiane Times