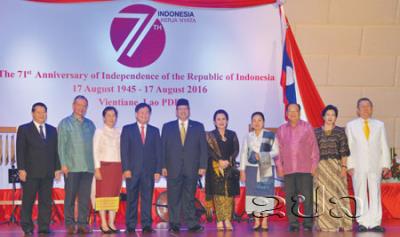 The Indonesian Embassy in Vientiane last Friday celebrated the 71th anniversary of Independence of the Republic of Indonesia.
Minister of Health Dr Bounkong Syhavong, Deputy Minister of Foreign Affairs Mme Khamphao Ernthavanh, high-ranking government officials, diplomatic corps, representatives of international organisations, and invited guests joined the reception.
Addressing at the reception, Indonesian Ambassador to Laos Mr Irmawan Emir Wisnandar said that "in 2016, as the year of ASEAN here in Laos, we saw many delegations, media and related parties coming to Laos from all around the globe."
"There is no doubt that Laos is now in the centre of the world's attention. Being the Chairman of ASEAN nowadays definitely is not an easy task. The complexities of issues often lead to long and complicated negotiations and Laos is now at the centre of those negotiations. As I followed many ASEAN meetings, I saw first-hand that Laos is really an able Chairman."
"The wisdom of Lao leaders successfully handled many hard negotiations in ASEAN which led to meeting outcomes that were very satisfying. I am sure that Laos will continue its good work in hosting the ASEAN Summit next month, Mr Wisnandar pointed out."
"On behalf of the government and people of Indonesia, he expressed deepest gratitude and appreciation to the government and people of Laos for the hospitality rendered to all Indonesian delegations. He also reiterated his government's support for the Lao PDR's Chairmanship this year."
"This year is the beginning of ASEAN Economic Community (AEC).  It is a time for ASEAN to become more unified, not only in politics, but in economics as well. In connection with AEC, in the future we will see more Indonesian businesses coming to Laos to seek mutually beneficial cooperation."
The current state of bilateral relations between Indonesia and the Lao PDR today could be described as featuring "more intensive exchanges, deeper cooperation and broader converging interests." In the political field, the two sides have seen more frequent official exchanges.
In the economic arena, the two sides have been working together to advance mutually beneficial economic cooperation and trade. Several meetings on investment and trade have taken place with encouraging progress made in cooperation in agriculture, mining, health and aviation.
Exchanges and cooperation in culture, education, capacity building and other areas are expanding in an all-round way.  Teacher training is intensifying and the number of Lao students receiving scholarships in Indonesia is increasing.
Source: KPL