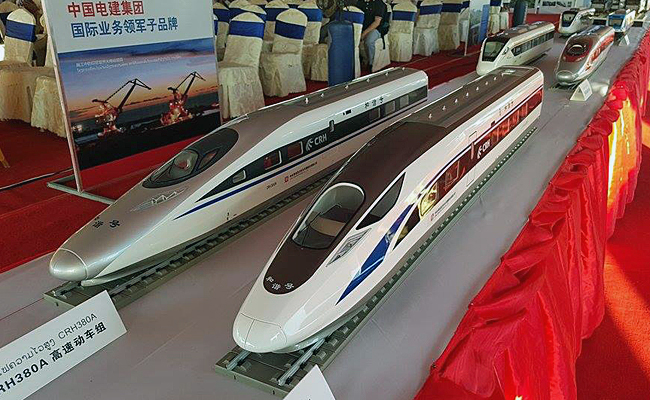 Chairman of Krittaphong Group Yao Bin considers the ongoing Lao-China Railway construction project a game changing solution to Laos' logistic disadvantages.According to Mr. Yao, the marine transport of goods from Thailand to coastal provinces in China currently takes more than one month, however when the Lao-China rail is completely built, goods in eastern Chinese provinces can be transported through the rail network to Yunnan and then transported through Laos and finally on to Thailand, and this will be able to take place in a single day.
In an interview with the Lao News Agency, Mr. Yao highlighted opportunities that Laos can tap once the Lao China Railway project is completed saying that Laos is more likely to rake in revenue from transit–related services, the influx of Chinese tourists, and the export of organic agricultural produce.
Mr. Yao said that the Lao-China railway would help turn Laos into an attractive logistic centre and will encourage neighbouring countries to cooperate with Laos in developing better logistics systems in the region.
"Today one of the most important aspects of a country is its transportation facilities.  If a country becomes a transport hub, then it will become trade centre and finally a financial centre bringing with it prosperity for the people," said Mr. Yao.
The Laos-China Railway Project has a length of 427 km. Seventy two tunnels will be drilled and 170 bridges built along the rail line, stretching from the Laos-China borderline in Phongsaly to Vientiane Capital. 
A recently released report prepared by the Ministry of Public Works and Transports suggests that the project will ensure that the Lao PDR has strong economic infrastructure that meets its vision of transforming from a landlocked to a land-linked country and help achieve the external cooperation and connectivity strategies the government has envisioned with other ASEAN member countries and China.
The railway project will become an important tool to attract foreign investment thus resulting in increased capital, the availability of modern technology, and competent human resources in Laos.
It will also help promote cooperation in trade, people to people exchanges, tourism, reduce production costs, create jobs and contribute to the sustainable development of the country, according to the report.
Source: KPL