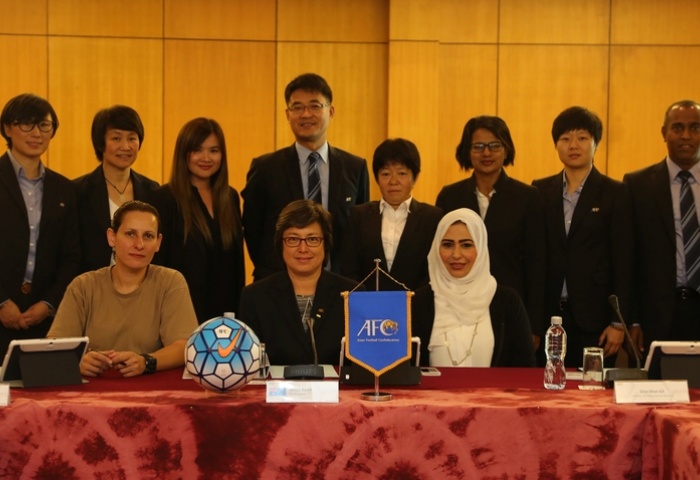 Chonburi: The Asian Football Confederation (AFC) Women's Football Committee met on Sunday in Chonburi, Thailand, coinciding with the qualifying round for the AFC U-16 Women's Championship 2017 taking place in the country.
Key decisions were made relating to the host nations of upcoming AFC women's competitions: Jordan were chosen to host the AFC Women's Asian Cup 2018 finals; the AFC U-19 Women's Championship 2017 finals were awarded to China PR (Nanjing) and Thailand (Bangkok) were announced as the hosts of the AFC U-16 Women's Championship 2017 finals.
The decision to award the hosting of the AFC Women's Asian Cup 2018 Finals to Jordan was reached following the study of bidding files and the report of the inspection visit to Amman in April. The inspection team assessed the venues on a number of themes including hosting of previous AFC competitions, current state of facilities, general infrastructure, transport, security and accommodation.
AFC Women's Football Committee Chairwoman Moya Dodd said: "Jordan have proved they are worthy hosts of the next edition of the AFC Women's Asia Cup Finals and I would like to congratulate the Jordan Football Association on submitting such a professional and thorough bid. This decision marks a geographical landmark, being the first time a Member Association from the West Zone will have hosted a senior AFC women's tournament. We look forward to seeing them in the spotlight and wish them well later this month, too, as they host the FIFA Women's U-17 World Cup."
Dodd reflected on a busy meeting agenda, adding: "This is an exciting time for women's football in Asia as the AFC has pledged recently, as part of its Vision and Mission statement, to further invest in the women's game in the continent and build on recent progress and success. The information shared and discussed today highlights the great steps that are being made in terms of development, coaching, technical ability and competitiveness, as well as administrative expertise at all levels of the women's game in Asia."
The Committee also discussed the potential for a pilot Asian club championship for elite teams, as well as possible development tournaments for emerging Member Associations, further mirroring the AFC's commitment to providing top level competitions to raise the standard of competition in Asia.
Source: laoff.org.la