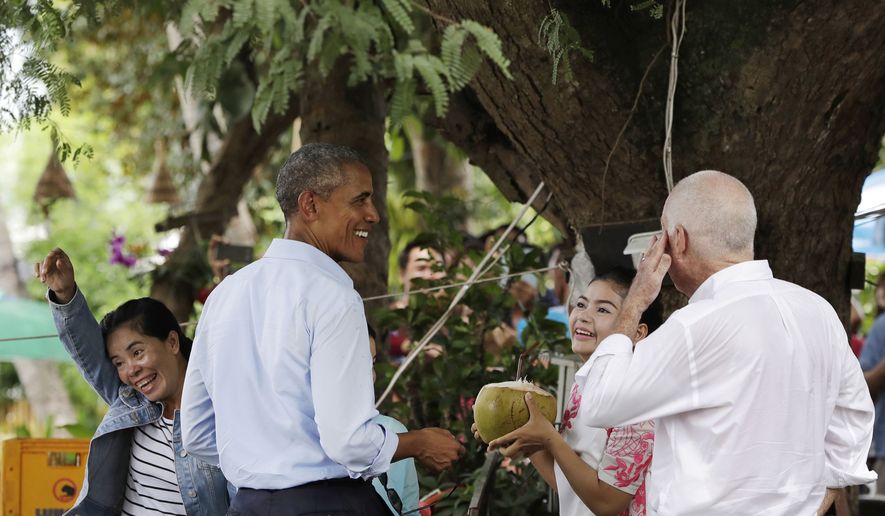 President Obama and Philippine President Rodrigo Duterte met informally Wednesday night before a gala dinner at a summit in Laos, breaking the ice a bit after Mr. Duterte called him a "son of a bitch."
Their brief meeting took place in a holding room before the dinner, Philippine officials told The Associated Press. There was no immediate confirmation from the White House.
Philippine Foreign Secretary Pefecto Yasay said the short meeting "springs from the fact the relationship between the Philippines and the United States is firm, very strong. The basis for this relationship is historical and both leaders realize this."
The White House canceled a formal meeting between the two leaders Tuesday after Mr. Duterte's outburst. He was reacting to reports that Mr. Obama intended to confront him about extrajudicial killings of suspected drug dealers in the Philippines.
At the dinner in the Laotian capital of Vientiane, Mr. Obama and Mr. Duterte sat near each other but didn't interact. The Philippine leader sat next to Russian Prime Minister Dmitry Medvedev, and they appeared to be enjoying each others' company, clinking their glasses of red wine several times, reporters said.
"They seemed to be hitting it off," according to a pool reporter traveling with Mr. Obama. "Medvedev was laughing at things Duterte said."
Earlier Wednesday, Mr. Obama took a not-so-subtle shot at Republican presidential nominee Donald Trump in Laos, lamenting to a foreign audience that the U.S. will be "left behind" if America turns to isolationism instead of embracing Asian cultures.
Speaking to Asian youth leaders in the mountain town of Luang Prabang, Mr. Obama didn't mention Mr. Trump by name, but he pushed back against the Republican nominee's proposals such building a wall between the U.S. and Mexico, and temporarily banning Muslim immigrants.
"We have to be able to promote principles that rise above any individual religion, nationality, race," Mr. Obama said. "That's what we've been trying to promote — not always successfully. Not everybody in America agrees with me on this, by the way. I'll leave it at that."
Mr. Obama reminisced fondly about growing up in Indonesia, and chided Americans for a tendency to ignore what's going on in the world.
"If you are the United States, sometimes you can feel lazy and think, you know, 'we're so big, we don't really have to know anything about other people,'" Mr. Obama said. "That's part of what I'm trying to change, because this is actually the region that's going to grow faster than anyplace else in the world."
He added, "If we aren't here interacting and learning from you, and understanding the culture of the region, then we'll be left behind."
Mr. Obama is promoting a free-trade deal with Asia-Pacific nations, and predicted Congress will approve the agreement after the November elections. Both Mr. Trump and Democratic presidential nominee Hillary Clinton oppose the Trans-Pacific Partnership.
The president said ethnic tensions and conflicts with new immigrants surface in the U.S. particularly "when the economy is not doing well, and so people feel stressed.
"And typically, when people feel stressed, they turn on others who don't look like them," Mr. Obama said. "So we have to fight against that."
Source: Washington Times