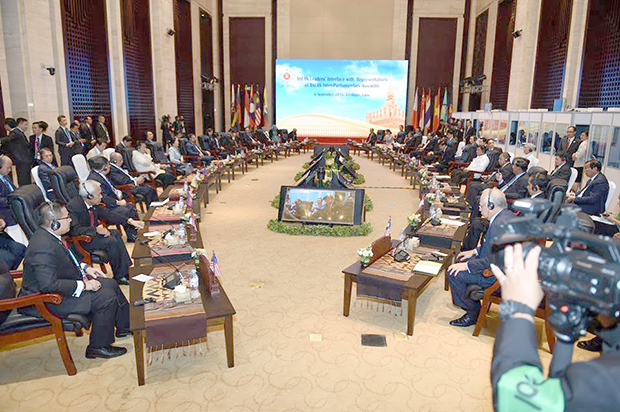 ASEAN leaders have praised the role played by the ASEAN Inter-Parliamentary Assembly (AIPA), in contributing to the ASEAN Community building process, especially through the standardisation of legislation with respect to various ASEAN instruments.
The leaders, represented by Prime Minister Thongloun Sisoulith, expressed their appreciation during their interface with AIPA representatives in Vientiane on Tuesday on the sidelines of the 28th and 29th ASEAN Summits.
The interface was viewed as a meaningful interaction for the promotion of cooperation and exchange of views between ASEAN and AIPA on the ASEAN Community building process.
The leaders referred to the AIPA as a legislative institution which they said represented the more than 620 million people of the ASEAN bloc in promoting awareness of ASEAN and harmonising legislation development and ratification with regard to ASEAN instruments, all of which had contributed to the establishment of the ASEAN Community.
During the interface, ASEAN leaders encouraged the AIPA to intensify its efforts to contribute to the realisation of the ASEAN Community Vision 2025 as well as the implementation of integral documents relating to the ASEAN Community vision at the national level with a view to strengthening and enriching the ASEAN Community and ensuring that ASEAN people benefit from the community building process.
Speaking during the interface, AIPA President, President of the Senate of Malaysia, Sa Vigneswaranhas, sent a message to the ASEAN leaders outlining the views of AIPA representatives in line with the three ASEAN pillars.
They noted the need for a continuing concerted effort to narrow the development gap among ASEAN member countries and enhance the capacity of ASEAN's newer members – Cambodia, Laos, Myanmar and Vietnam – towards the advancement of ASEAN integration.
Other issues in the message included the translation of ASEAN agreements into national legislation, counterterrorism, deepening the sense of ASEAN identity, addressing illegal, unreported and unregulated fishing, and trafficking in wildlife and timber.
The AIPA called for the full translation of ASEAN agreements into national legislation to ensure that the comprehensive implementation of these agreements realises the visions of the ASEAN Economic Community, noting that the regional body had pledged to become a rule-based, people- oriented community by 2025.
The representatives also noted the need for ASEAN countries to look at whether their laws are aligned with the ASEAN Community Vision 2025 and its three blueprints, while suggesting there may be a need for some laws to be introduced, amended or replaced to complement ASEAN Community building.
The AIPA also noted that technical and vocational education and training was essential for the development of skilled and trained labour in the region.
Source: Vientiane Times