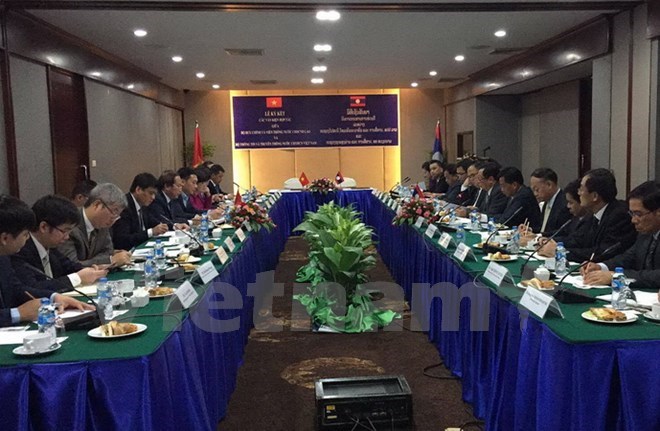 Minister of Information and Communications Truong Minh Tuan and Lao Minister of Post and Telecommunications Thansamay Kommasith have agreed to strengthen future partnership in information security and human resources development.
During their talks in Vientiane on September 19, the ministers concurred to further bilateral cooperation through increasing delegation exchanges and experience sharing in management policies building and personnel training.
The two sides briefed each other on the development of post, telecommunications and technology in each country, while reviewing the outcomes of the two ministries over the past years.
So far, the two ministries have carried out numerous joint programmes, including those to help enhance management capacity of newly-formed agencies.
They have worked closely in frequency coordination in border areas, while coordinating the frequency of LAOSAT and VINASAT satellites. Vietnam also supported Laos in launching the LAOSAT-1 in 2015.
The two sides have affiliated in organising long-term and short-term professional training courses on post and telecommunications for Lao officials and students in Vietnam, while providing mutual support at international organisations, such as the International Telecommunication Union, the Universal Portal Union (UPU), and the Asia-Pacific Telecommunity (APT).
Following their talks, the two ministers inked a minutes of cooperation between the two ministries, and attended the signing ceremony of a cooperation document between the National Electronic Authentication Centre under Vietnam's Ministry of Information and Communications, and the Internet Centre under the Laos' Ministry of Post and Telecommunications.
Source: Vietnam Net