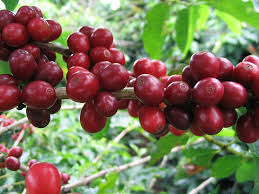 The Lao Coffee Association is hopeful that growers will get more for their coffee this year thanks to rising prices in the world market.

Arabica coffee currently s ells for about US$3,200 per tonne and Robusta for US$1,400, while last year Arabica was only fetching US$2,500, although the sale price of Robusta price was much the same, an association official, Mr. Sivilay Xayaseng, told Vientiane Times yesterday.
At the start of harvesting last year, the price of cherry beans was just 1,700 kip a kg, while green beans for export sold for 3,000 kip. But Mr. Sivilay hoped the price would be higher this year as the market was picking up.
Growers around the country are currently preparing to harvest their coffee crop for sale and export.
After being hard hit by falling coffee prices over the past three years, some coffee growers in the southern provinces decided to cut their losses and sell their farms, while others have switched to other commercial crops.
Many farmers have stopped growing the crop after losing so much capital but large numbers are still operating under the contract farming system and have sufficient funds to tide them over.
Farmers can stay afloat if the coffee price remains over 2,500 kip a kg but may run into difficulties if it falls any lower, Mr. Sivilay said.
Of this amount, growers pay 1,000 kip to the workers who pick the coffee cherries, while the rest goes to management and farming development.
In years when the coffee price was high, many growers expanded their farms but some have had to sell their land since the price slumped.
Mr. Sivilay said the optimum size of a coffee plantation was three hectares per producer and growers may struggle if their farm is larger and they cannot be certain of a buyer.
The shortage of workers is another major issue plaguing the industry, to which there is no solution in sight.
Several countries are investing in coffee farms in Laos, such as Vietnam, Thailand, the Republic of Korea, Chinese Taiwan, Singapore and India.
Most of the Lao coffee crop is exported to Chinese Taiwan, Italy, Japan, Spain, Poland, Germany, the US, France, Belgium, Sweden, Thailand and Vietnam.
But due to fluctuations on the world market, the sale price of Lao coffee and export figures have been declining.
In 2013 Laos exported 30,000 tonnes of coffee valued at US$72 million. In 2014 total coffee exports dropped to 26,000 tonnes worth US$60 million. Last year exports fell further to 23,000 tonnes valued at US$50 million, the Lao Coffee Association reported.
Source: Vientiane Times