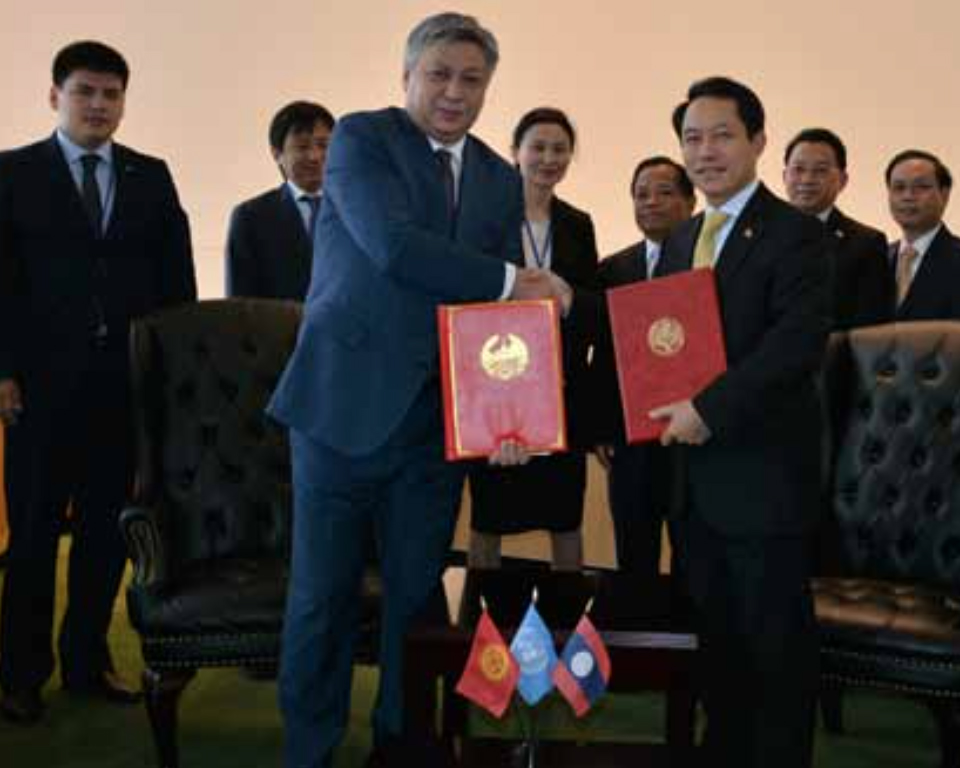 The Lao PDR and the Kyrgyz Republic have signed a Joint Communiqué on visa exemptions for persons holding diplomatic or official passports.
The Joint Communiqué was signed by Minster of ForeignAffairs Mr Saleumxay Kommasith on behalf of the Lao government and Foreign Affairs Minister Erlan Abdyldaev representing the Kyrgyz government.
The signing ceremony held on September 24 at the United Nations Headquarters in New York, USA, was attended by government officials from the Lao PDR and the Kyrgyz Republic.
Since 1950 Laos has established diplomatic ties with 139 countries. Of these, 24 countries have set up embassies in Vientiane and four have established consulates.
The Lao PDR has set up 27 embassies, 3 representative offices, 8 general consulates, 1 consular office and 15 honorary consulates abroad.
The Lao PDR and the Kyrgyz Republic established diplomatic ties on June 13, 1995.
The Kyrgyz Republic borders China, Kazakhstan, Tajikistan, and Uzbekistan and has a population of about 5.9 million. The country's capital city is Bishkek.
According to the World Bank, after independence in 1992, the Kyrgyz Republic's economy and public services were hit hard by the break-up of the Soviet economic zone and the end of subsidies from Moscow.
Thanks to the adoption of market-based economic reforms in the 1990s, the economy has nearly recovered to its pre-independence level of output, but infrastructure and social services have suffered from low investment.
With per capita GNI of US$920 in 2011, the Kyrgyz Republic remains a low income country. Moreover, the global economic crisis, the political unrest of April
and June 2010 and food price increases in 2011 and 2012 have reversed earlier gains in poverty reduction. The absolute poverty rate increased from 33.7 percent in 2010 to 36.8 percent in 2011.
A series of reform-oriented governments since the political crises of 2010 have sought to restore economic and social stability, and to address shortcomings in public governance and the investment climate.
Following strong growth in 2011, the Kyrgyz economy was hit by a significant decline in gold production due to geological movements at the Kumtor gold mine. Real GDP in the first half of 2012 contracted by 5.6 percent as gold production at Kumtor fell by 60 percent.
Excluding Kumtor, real output grew moderately at 3.9 percent with growth across all sectors.
In 2015, GDP growth was about 3.5 percent with US$6.572 billion while inflation stood at 6.5 percent.
Source: Vientiane Times