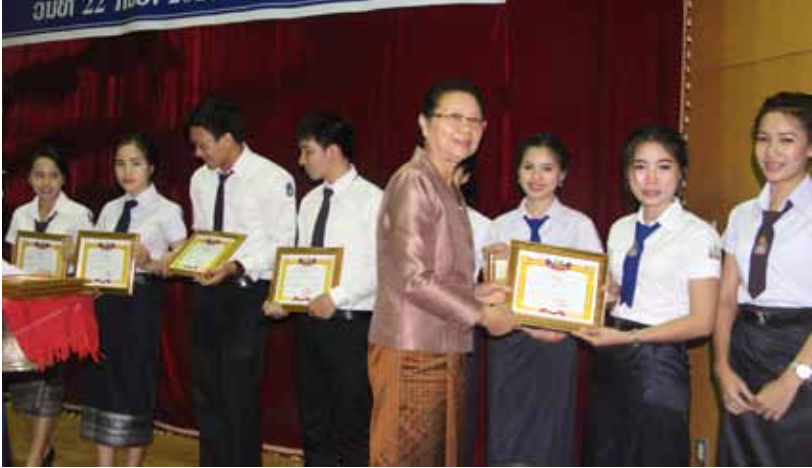 The National University of Laos (NUOL) has awarded certificates of honour to 34 students out of the total 5,969 who graduated this academic year, the 16th batch of graduates from the university.
Twenty-seven of the awardees were female, the university reported last week in its summary of the 2012- 2016 academic years.
This year's graduates are the 16th batch since the country's foremost educational institution was upgraded to university status in 1996.
The report was delivered to mark the start of the 2016-17 academic year.
It noted that from 2012- 2016, a total of 7,015 students were enrolled in various faculties. Some 1,068 students studied for master's degrees, 5,856 for bachelor degrees and 91 students studied for a diploma, NUOL President Prof. Dr Somsy Gnophanxay reported.
Some of the students did not graduate this year for a variety of reasons, he noted.
Last academic year, the university ran courses at different levels, teaching 176 curriculums.
"Everyone at the university – researchers, experts, and technicians along with teachers and staff from every faculty, institute and department – is very proud to use their ability to contribute to human resource development to meet the needs of society," Prof. Dr Somsy said.
Accomplished graduates are essential to spur socio- economic development and expand cooperation with other countries, in keeping with government and party policy.
In the 20 years since the NUOL was established in 1996, there have been 16 batches of bachelor degree students, eight batches of master's degree students, and one batch studying for doctorate degrees.
This academic year, the university has 1,965 administrative staff and teachers, and 21,253 students, of whom 699 students come from nine foreign countries.
To raise the university to a higher level and ensure it is a leader in human resource development for the benefit of Laos, and able to compete regionally and internationally, the university will continue to provide political training. It will also improve the way it is structured, its technical services and various activities, and step up cooperation with domestic and foreign entities, Prof. Dr Somsy added.
The university will also continue to improve the standard of both students and teachers so they become high quality administrators, experts and researchers in line with the Ministry of Education and Sports' reform plan.
Also speaking on the occasion, Minister of Education and Sports Ms Sengdeuane Lachanthaboun praised the success of the young graduates, saying they had persevered with their education for the benefit of their families and the country. She advised them to continue to improve their skills and become productive members of society.
She also praised the university's teachers and administrators for devoting their talents to the development of human resources for the betterment of society and asked them to continue with their efforts.
Source: Vientiane Times