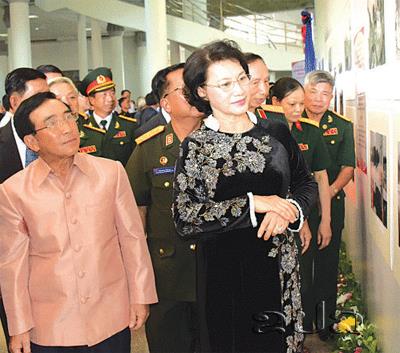 A photo exhibition about the wonderful Ho Chi Minh Trail in Laos was opened in Vientiane Capital on September 26 to celebrate the 55th anniversary of the Ho Chi Minh Trail in Laos (1961-2016).
The photo exhibition will be on display from September 26 – October 6 at the Lao People's Army Museum in Vientiane.
Vice President Phankham Viphavanh and Chairwoman of the Vietnam National Assembly Nguyen Thi Kim Ngan, who is paying an official visit to Laos, as well as relevant officials, attended the event.
More than 100 photos relating the Ho Chi Minh Trail are being displayed at the event.
The objective of the expedition is to recall the history of the construction and use of the Ho Chi Minh Trail on the east of Laos and the west of Vietnam since 1961.
Speaking at the event, Minister of Defence Chansamone Chanyalath stressed that many soldiers and citizens from both Laos and Vietnam sacrificed their lives on this trail for their countries' independence and freedom.
He hoped that the exhibition would contribute to fostering the friendship and special solidarity between the two countries.
Meanwhile, Vietnamese Ambassador to Lao Nguyen Manh Hung said that the Ho Chi Minh – Tay Truong Son Road constitutes a shining symbol and everlasting monument of Laos' sacrifice and wholehearted support for Vietnam, and significantly contributed to the special solidarity of the two nations.
Both local people and foreigners can view the photo exhibition free of charge.
Source: KPL