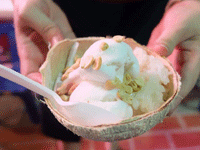 Like any capital city, Vientiane has no shortage of shops selling locally revered desserts. However, a new type of shop selling a Lao specialty is cropping up all over the city, which locals call karam po , otherwise known as ice cream served in a coconut shell.
Mrs Chansamon Bounpasert, the owner of one karam po shop, told Vientiane Times  My shop opened earlier this year. I simply love ice cream, so my sister and I decided to make it ourselves. Personally, I prefer to set my shop apart from others while at the same time utilise traditional methods whenever possible; that's why I use coconut shells to serve the ice cream, much in the same way our ancestors used to at home.
Her idea is a hit with locals and foreigners alike. Since opening her first shop in Dongpalan village, Sisattanak district, she has expanded by opening two other shops located at Vientiane New World and another near Wattay International Airport. Humble beginnings quickly turned into a prosperous enterprise for Mrs Bounpasert.
The coconut shell defines her business acumen; coconuts are a regular staple of local consumption and the used shells are cheap to come by. Moreover, they conjure up nostalgia in the minds of customers for bygone times. When the shells are combined with the coconut meat and milk used to produce the actual ice cream, the result is a winning treat that is providing many shop owners with a decent living.
Mrs Bounpasert said it wasn't hard to buy coconuts because many people love to drink coconut juice and there are many vendors and outlets in the city that sell them. To make the ice cream she uses coconut milk and mixes it with sticky rice then adds pieces of coconut meat, which all adds up to a very tasty treat.
I want only fresh coconut to make the ice cream and then we use the shells to serve it up in. This way I feel I'm really preserving tradition and I like to think that my shop is using an original way to serve ice cream, she said.
She also does home deliveries, but says orders should be for at least five shells and not too far from her shop because the ice cream soon melts. She also provides ice cream at events and parties, for which she requires an order of at least 1.3 million kip or 200 servings of ice cream.
Now her shops are very popular and people are lining up to buy the ice cream, which costs 10,000 kip per serving. Other ice cream outlets in Vientiane also buy Mrs Bounpasert's ice cream for sale to their customers, for which she charges 40,000 kip per kilogramme.
Her shops are open from 3pm to 9pm from Monday to Saturday.
Source: Vientiane Times