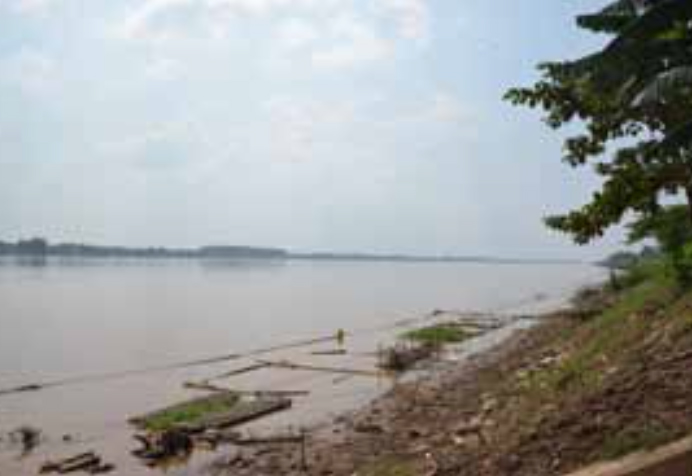 The finishing line for this year's boat racing festival in Vientiane has been moved 200 metres downstream from the old location as the Mekong River level is higher this year.
The boat racing festival is one of the biggest and most significant festivals in Laos held annually at the end of Buddhist Lent in Vientiane.
Every year, it attracts large crowds to enjoy the various activities with vendors' stalls proving popular as people try to snap up a bargain.
Historically, the Vientiane organising committee has positioned the festival finishing line in front of Vat Chan Temple but for the past two years the finishing line has been repositioned because of varying water levels.
Last year, the organising committee moved the finish line one kilometre upstream from the front of Vat Chan Temple but this year it has been moved 200-300 metres downstream from that location.
A senior official from the Vientiane Department of Education and Sports, Mr. Kongkeo Hengdavongxay told Vientiane Times on Friday that the finishing line will be moved 200-300 metres downstream from last year's finish line because of the different river level.
"We expect that the finishing line will be installed around Khountatha village, Sikhottabong district," Mr. Kongkeo said.
While the organising committee has had to once again move the finish line for this year's event it still expects to see large crowds and an increased number of boats taking part.
According to their report, last year there were a total of 27 sports boats, 16 traditional boats and seven modified boats plus many others crewed by men fromVientiane, Xayaboury, Borikhamxay and Luang Prabang provinces as well as the Ministry of Finance, which also entered a boat in the festival.
This year new teams from other provinces are continuing to register with the organising committee. The total number of boats this year is expected to be the same or higher than last year.
This happy festival provides an opportunity for people throughout the country to visit one another and strengthen family bonds.
Aside from the boat races, the main attraction is a massive street fair where many people gather to shop for bargains. Also on offer are various amusement stalls, rides for children, and concerts by Lao artists.
However, the committee will make public announcements to warn those attending the festival to take full precautions regarding their safety and security.
Source: Vientiane Times