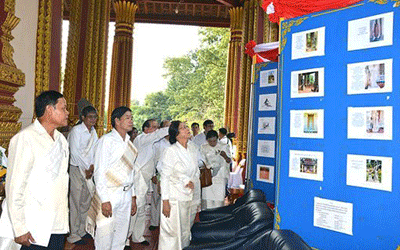 The first phase of the Hor Pha Keo Museum renovation project has reached completion successfully following more than a year for works.
The project committee arranged a Buddhist ceremony at the revered museum on the weekend to conclude the completion the first phase of the project.
According to reports, the first phase of the restoration began in early 2015, at a figure of over 6 billion kip.
Following its completion, the second phase of restoration is set to commence, also at a cost of 6 billion kip.
The project phase featured improvements to the roof, ceiling, and the walls inside and surrounding the museum, including the painting and texturing of the walls, Vice Mayor of Vientiane, Mr. Sihoun Sithileuxay reported to the President of the National Assembly, Ms Pany Yathotou.
Mr. Sihoun explained that the renovation has been divided into four phases at a total cost of more than 23 billion kip.
The second, third and fourth phases will focus on the floor and other painting works around the museum, as well as the design of the glass wardrobes and its exhibition hall.
In other works, restorations will also be undertaken on the garden, drains, lighting, and other features while security cameras will be installed.
Officials also reported that funding for the renovation project came from the government, donations from local people, foreigners and international organisations as well as entry fees to the museum.
However, the p roject is still seeking more donations to complete its renovation according to the schedule.
This is the third restoration of Hor Pha Keo; the first took place in 1816, and the second from 1936-1942, with 2015 being the latest, according to the report.
Hor Pha Keo is one of Vientiane's oldest temples, which was used as the royal chapel of the Lao monarchy, but more importantly it was built to house the Emerald Buddha .
Th e first renovation took place in 1816 during the reign of Chao Anouvong.After national liberation in 1975, the government placed Hor Pha Keo under the management of the Ministry of Education.
From 1983-1987, the museum was under the supervision of the then Ministry of Information and Culture. It became a full museum in 1987.
The project committee also held an almsgiving ceremony on Sunday morning presided over by 41 monks at the museum.
Source: Vientiane Times