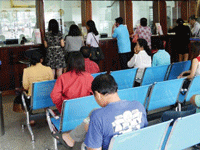 The value of assets in the banking sector in Laos could possibly still continue to grow this year, as foreign banks move to open subsidiaries in Laos.
An official working in the banking sector commented on the matter after the World Bank reported recently that the value of assets held by banks in Laos reached US$12 billion in 2015, an increase of 60 percent compared to 2013.
The growth of asset value in the banking sector is partially attributable to the opening of subsidiary foreign banks from China, Malaysia, and Thailand, Cambodia, Vietnam, and France.
Presently, Laos has more than 40 banks, which has seen the assets of foreign banks' subsidiaries increase 18 percent in 2013 as and then a further 26 percent in 2015.
The assets of state banks has been reduced from 53 percent to 46 percent of the total, which were able to cover 47 percent of the total loans in 2015.
The credit sector has increased slightly whilst the rates of loans decreased 11 percent in 2015.
Last year, the Bank of the Lao PDR issued regulations to help expand the provision of credit through decreasing the interest rate from 5 percent to 4.5 percent.
The rate of interest on deposits and loans has reduced from 13 percent in 2014 to 10 percent in 2015; this has driven the percentage of the total deposits held by banks in kip currency down from 25 percent in June to 18 percent in December last year.
In 2015, commercial banks increased their loan provision by 20 percent with the sectors of industry, trade, and agriculture, however, loans in the construction sector have reduced as the government stresses better payment management.
Source: Vientiane Times