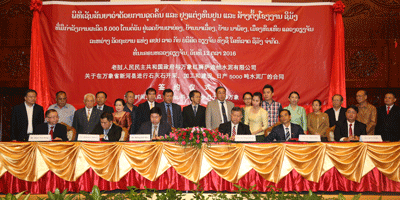 The government has agreed to allow Vientiane Hongshi Saythirath Cement Co., Ltd to excavate lime and construct a cement factory in Vientiane province after the developer completed feasibility studies.
The agreement was signed in Vientiane yesterday on behalf of the government by Deputy Minister of Planning and Investment Dr Khamlien Pholsena, Mines Department Director General Dr Simone Phichith and developer representatives Vientiane Hongshi Saythirath Cement Co., Ltd Managing Director Mr. Wang Jianwei and Saythirath Group Co., Ltd President Mr. Souksakhone Saythirath.
The signing was witnessed by Vientiane provincial Planning and Investment Director Mr. Soukanh Vilaylath and Vientiane Hongshi Saythirath Cement Co., Ltd Managing Director Assistant Mr. Shen Yue Ming.
The ceremony was attended by Deputy Minister of Energy and Mines Ms Chansavath Boupha, Vientiane province Governor Mr. Vidong Sayasone, government officials from relevant sectors and developer representatives from both countries.
The project covers three villages, Phabong, Naleuang and Naphong, in Hinheub district, Vientiane province.
The project supports infrastructure development with the proponent being one of the most experienced companies in the processing and sale of cement in China (Hongshi Holding Group) with its Lao company being Saythirath Group.
The project will invest about US$300 million and use new dry process technology in cement production.
The new technology is safe and environmentally friendly and represents one of the biggest Chinese investment projects in the cement sector.
Once completed, the factory will produce high quality cement products for export and domestic supply with installed capacity of 5,000 tonnes a day.
About 50 percent of cement products will be exported to Thailand and the remainder will supply the domestic market especially government projects.
The Hongshi Holding Group holds 70 percent of shares, while Saythirath Group has 30 percent.
It will also contribute to the railway development project connecting Laos and China as well as other infrastructure such as road and bridge construction and hydropower development projects.
Importantly, it will help to reduce cement imports and create job opportunities for local people during project construction and operation.
The project also plans to develop roads in the area of the facility which will also assist local transport.
The developer expected the project would begin this year and take 18-20 months for construction with production of cement products to begin in the middle of 2018.
Source: Vientiane Times