Chef Jeremy Herzog Brings Parisian Pastries to Vientiane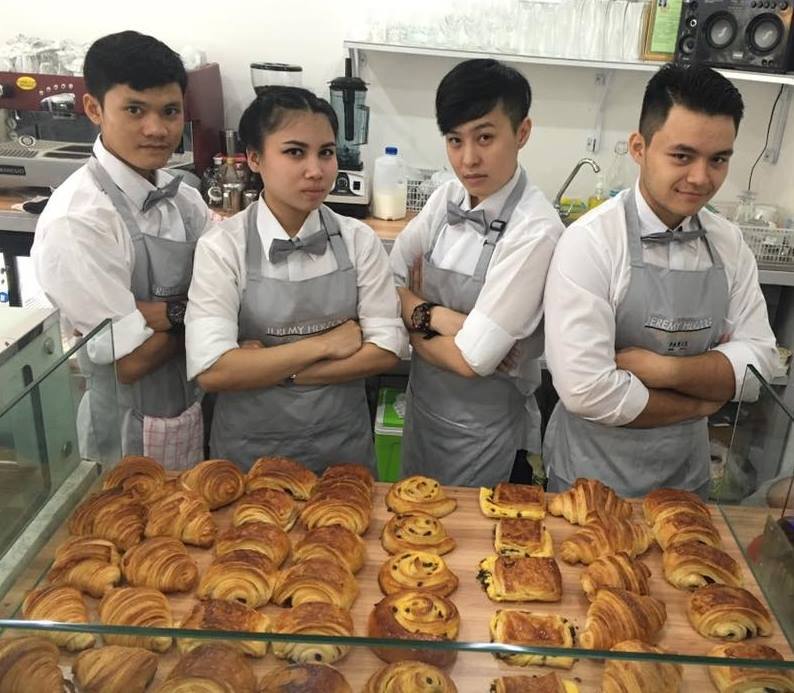 I walked into Jeremy Herzog Patisserie on an average evening wanting something flavorful and was not disappointed. I tried three cakes, had an unfortunate incident with a spoon, and was treated like a Michelin Star restaurant judge.
Upon opening the door, I was greeted by a lamp-man straight from a Dr. Seuss story, who bowed so politely and sternly in front of me, he must have thought I was the Emperor of Japan! Upon seeing me, the waiters all warmly smiled as one of them proceeded to ask for my order. I looked at the delightful array of choices and chose three that caught my eye: the Vanilla Religieuse, the Black Stone, and the Chocolate Éclair.
THE DESSERTS
The Vanilla Religeuse, a.k.a the incomplete snowman with a beret (how French!), is delightful. While I feel the overly-generous use of fresh cream slightly overwhelms the taste of the crème patissiere used in the filling, the sprinkled icing more than makes up for its lack of sweetness. I believe this to be quite deliberate on the part of Jeremy Herzog. Superb.
The Black Stone is akin to a stone only in appearance, and when you sink your teeth into it, its appellation does it no justice. The texture is so gratifyingly soft that you can't help but appreciate Chef Jeremy's soft spot for irony (pun intended). Moreover, the addition of coconut into the sponge imbued it with an interesting texture. The raspberry mousse has the perfect touch of tartness that beautifully offsets the sweetness of the chocolate. Sublime.
Last but not least, the Chocolate Éclair is phenomenal. I daresay that it is my favorite of all the three. The chocolate filling is simply to-die-for, the constitution and presentation are gorgeous, and the taste is heavenly. It just melts in your mouth, drowns your tongue with bliss and envelops your taste buds with so much "chocolateness" that it leaves you wanting more.
THE DÉCOR & SERVICE
The restaurant décor at Jeremy Herzog is remarkably elegant. The clean, gray on white color scheme reflects the owner's preference for minimalism, with some splashes of paint here and there to add character. This is all tied together nicely by a humungous portrait of Chef Jeremy himself arching one brow like Dwayne 'The Rock' Johnson (Do You Smell What Jeremy is Cooking?).
Elegance aside, one minor faux pas on my waiter's part did irk me somewhat. While well groomed, well mannered, and with great posture, he held the spoon by its bowl before presenting it to me. I'm no expert but I think a spoon should be offered by its handle. And perhaps, it may have been more 'user-friendly' to have eaten the Vanilla Religieuse and the Chocolate Éclair with a fork, as opposed to a spoon.
The restaurant quickly redeemed itself, though, when I clumsily dropped my spoon on the floor and the manager promptly replaced it. Perhaps he thought I was from the Michelin Star organization (Michelin Men are known for dropping their utensils on the floor to appraise the service response time – popularized by the movie Burnt). Next time, I'll silently put one of my eating utensils on the floor on purpose to see if they notice.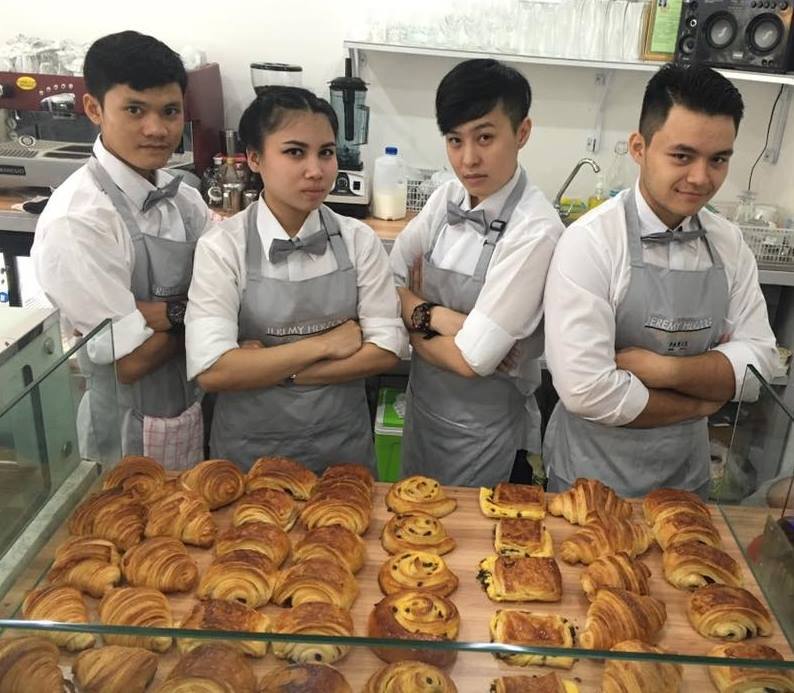 JEREMY HERZOG – HIGHLY RECOMMENDED
All in all, a wonderful time was had. And all three desserts cost only $11! That's value for money given the time, effort, skill and ingredients used to prepare them. Jeremy Herzog's Patisserie is highly recommended for dessert lovers and everyone else!
You can find Jeremy Herzog here. It is open from 7AM – 9PM, and you can call 020 56328445 to make enquiries. Also, check out the official facebook page.
Written by Dr. Pascal Haettenschweiler