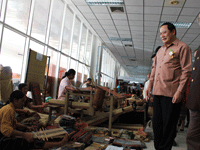 Lao handicraft products can look forward to continued expansion of their markets through improving designs and better quality, according to the head of the sector's association.
That was the upbeat message from President of the Lao Handicraft Association, Mr. Hansana Sisane yesterday at the official opening of the 15th Lao Handicraft Festival at Lao-ITECC in Vientiane. The event was also attended by Deputy Prime Minister Dr Sonexay Siphandone.
Mr. Hansana pointed out the number of festival booths has been increasing each year which showed the growing interest in Lao handicraft products.
The exhibitors will be selling an extensive variety of products including silk and cotton textiles, jewellery, pottery, non-timber and recycled products, green agriculture goods as well as numerous one district one product items.
This year's festival running until November 1 has more than 230 booths, an increase of around 3 percent compared to last year, an event organiser reported.
Mr. Hansana explained the Lao Handicraft Festival is held to support the marketing of local handicrafts both in rural and urban areas as well as to develop skills and products in handicrafts and weaving.
An event organiser explained the festival would offer opportunities for producers, customers, buyers and sellers to meet and interact, and for craftspeople and exhibitors to learn about new designs, innovations and techniques that might be adapted to improve the quality of their products.
The organising committee invited talented handicrafts people from around the country to exhibit their wares and present the culture and identity of Lao people to local and foreign visitors.
It is envisioned the festival will serve to enlarge the market for Lao handicraft products both domestically and abroad.
Visitors attending the festival can also enjoy fashion shows, craft demonstrations and product design competitions.
This year the association has sent invitations to embassies of ASEAN and European countries.
The festival serves as a platform for handicraft makers to get together and share their business experiences.
Source: Vientiane Times