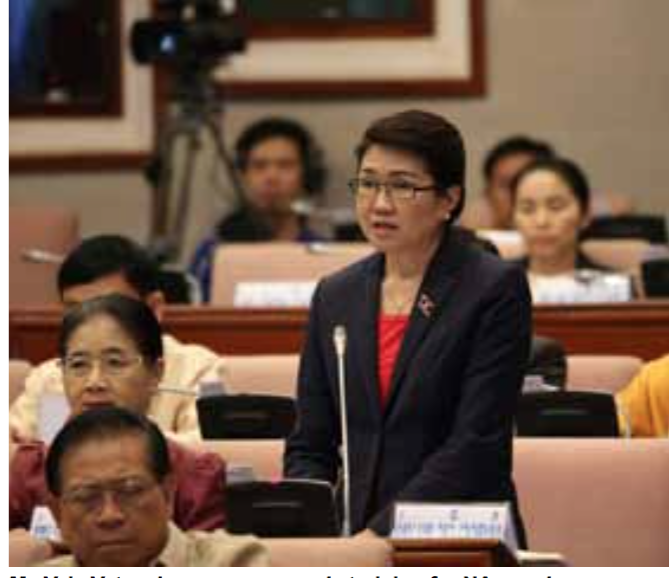 National Assembly (NA) members agreed during debates last week that they needed to work harder to fulfil their mandate and improve the performance of the Assembly.
The assessment came after members of the NA's 8th Legislature had been in office for six months since April. They also discussed the Assembly's plan for next year.
Members agreed they had not met with enough of their constituents as they had only had meetings with just over 300,000 people, which was far below the total number of eligible voters at almost 4 million people.
The numbers have failed to meet the target as we aimed to meet up to 60 percent of eligible voters, NA member for Luang Prabang province Lt. Colonel Paenkham Boudchanphaeng said.
He noted that members had not reached out to people living in deprived rural communities.
The lawmakers agreed that funding constraints were the main obstacle to visiting many villages.
Many parliamentarians called for training to be given to NA members to improve their professional competence so they would be better able to fulfil their mandate.
It was considered essential that they were able to closely monitor the performance of the government. It was noted that about 70 percent of the 149 members were new to the role and had limited experience as lawmakers and government inspectors.
This was in addition to the fact that provincial assemblies had been newly created, so that all members of these bodies were new to the job.
NA member for Vientiane Ms Valy Vetsaphong recommended that training should focus on improving members' competency in inspecting and following up the performance of administrative bodies.
She suggested inviting members of parliament from other countries to give talks and share their experiences, as the Lao National Assembly used to do.
Many NA members called for parliament to push the government to submit documents to be debated in NA sessions several weeks in advance so they had enough time to study them and make constructive recommendations.
Preparation by [the government's] relevant sectors is not adequate. This is the mechanism we need to work out. There should be a mechanism to push the government to pay greater attention to this issue, NA member for Saravan province Mr Bounpone Sisoulath said, referring to the slow submission of documents.
NA Vice President Somphan Phengkhammy said assessments of individual Assembly members would be carried out, adding that opinions put forward by members during ordinary sessions would be scored and those members who did not contribute an opinion would be recorded.
Source: Vientiane Times