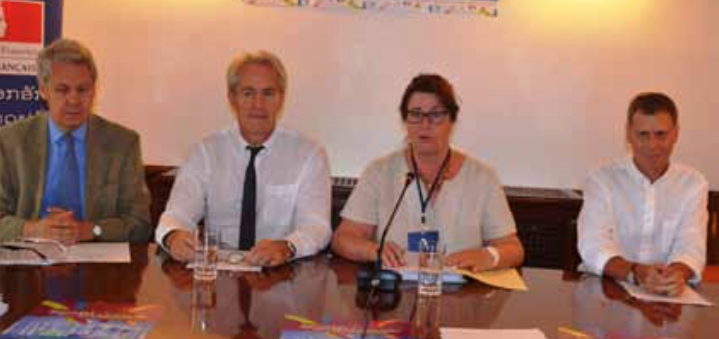 The Embassy of France to Laos and partners held a joint press conference on Thursday to announce the programme for the 6th edition of "Research Week for Development".
Research Week will take place in Vientiane from November 16-18, with the theme "Public health challenges in Laos" and featuring contributions from health research and regional perspectives.
The event will take place at the Francophone Institute for Tropical Medicine and the University of Heath Sciences, with participation by researchers and stakeholders from Cambodia, Thailand, Vietnam and Myanmar.
Speaking at the press conference, French Ambassador, Mrs Claudine Ledoux said the focus of Research Week will be identifying and addressing emerging health risks linked with environmental and economic practices through an integrated approach known as One Health.
Researchers will illustrate the contributions of research in the field of surveillance and infectious disease fighting in Laos and the region.
A diversity of health professionals and researchers will share their experiences and work with Lao youth, highlighting the opportunities of research for public policy and career development.
Since the first edition held in 2009, the Research Week for Development has pursued a three-pronged ambition: feed into scientific debates for the Lao PDR's and the sub-region's development; support decisions and policy makers; and attract young students to scientific careers.
Proving the international dimension of this symposium, talks will be given in French, English and Lao with simultaneous translations.
Scientific presentations and high-level panels will bring together policy makers and scientific experts. There will also be interactive events for a wider audience (workshops, stalls, competitions, tours, screenings and exhibitions).
Quality training, sustainable practices in agriculture, and optimised national strategies are three key levers for public health development in Laos.
Laos is characterised by high biodiversity and a multifaceted society, and is a crossroads for cultural, human and economic exchange. Laos is subject to many challenges in a dynamic region prone to environmental, human, and climatic changes.
More than any other public action, the role of scientific research is fundamental in public health. In addition, current economic development allows authorities to consider an ambitious policy for the development of the health and wellbeing of the population.
Source: Vientiane Times