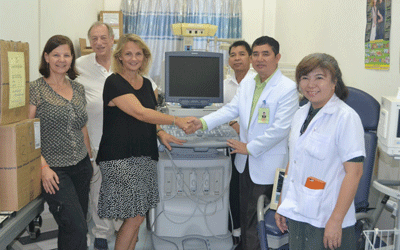 The Swiss-Lao Hospital Project has provided medical equipment worth about US$1 million for Lao hospitals, aiming to improve conditions for new mothers and newborns around the country.
Deputy Director General of the Mother and Newborn Hospital, Dr Sivanesay Chanthavongsouk, said this week the equipment would help to improve the quality of medical services for mothers and children.
Switzerland's assistance supports the Ministry of Health's policy to reduce the number of deaths among mothers and babies throughout the country, he added.
According to the 2012 Lao Social Indicator Survey, the death rate of birthing mothers is 357 out of every 100,000 births. The death rate of children under one year is 68 out of every 1,000 live births, and for children under five it is 79 out of every 1,000 live births.
The equipment donated by Switzerland includes incubators, phototherapy lamps, ultrasound machines, warming beds, gynaecology chairs and other items related to mother and child healthcare.
It will be distributed to Xayaboury, Luang Namtha, Xieng Khuang and Champassak provinces and the main hospitals in Vientiane. Most of the equipment will be installed at district hospitals. Vice President of the Swiss-Lao Hospital Project, Dr Marion Monkhoff, said the project will continue to improve mother and child health in Laos in the long term.
In the future we plan to provide training on how to provide better service in hospitals, she said.
Dr Monkhoff observed that the care of newborns and their mothers is better today than in the past but said many aspects still needed improvement. The Swiss-Lao Hospital Project would continue to provide solutions to various problems, she added.
The Swiss-Lao Hospital Project is an initiative run by Swiss doctors, midwives, nurses and association members who have lobbied for an improvement in the medical care available to mothers and children in Laos since 2000.
President of the project, Dr Urs Lauper, was also present at the equipment handover.
Source: Vientiane Times