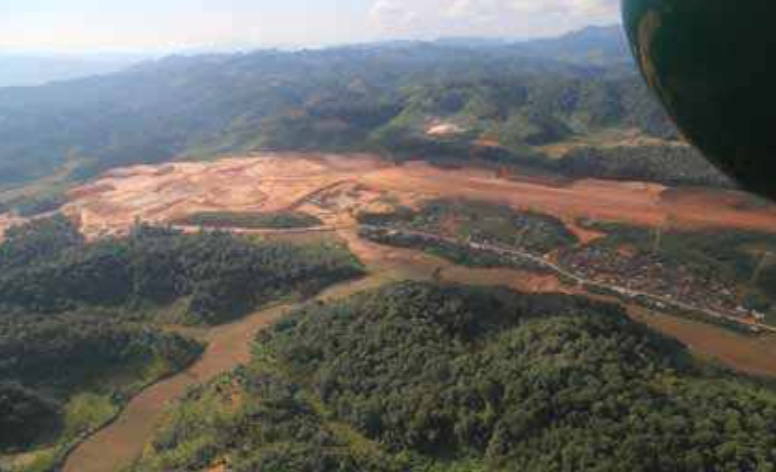 Huaphan province wants to help the people affected by Nongkhang airport construction that are suffering from a lack of rice to eat after losing their rice plots to the scheme.
The Hoang AnhGia Lai Joint Stock Company (HAGL) is responsible for the construction of the airport in Xamneua district's Nongkhang village.
Deputy Governor of Huaphan province, Mr Phanthong Phenxaysomphan told Vientiane Times on Wednesday that based on the signed contract, the construction company committed to pay compensation valued at some 6.8 billion kip.
However the company has run out of money and subsequently asked the government to make the payments, saying that it will repay the government at a later date.
This matter has been detailed in a report sent to Prime Minister Thongloun Sisoulith but he has yet to reply. Right now, we are waiting on the answer from PM Thongloun regarding the payment of compensation to them, he said.
A number of people affected by the construction of Nongkhang Airport in the province don't have rice to eat as they lost their rice plots for the scheme.
Scores of people in Xamneua district's Nongkhang village where the project was under construction called the hotline of the National Assembly (NA)'s second ordinary session of the Eighth Legislature in Vientiane, which ran from October 24 to November 18.
In their reports to the NA hotline, some families said they are now selling goats they have been raising in the village area in order to purchase rice for their families to eat.
But some families who don't have animals to sell are seriously hungry without land for growing crops because their former fields have been covered in fill after the land was surrendered to the project.
The people affected have so far been waiting three years for compensation for their rice plots and crops from the construction company.
The HonghAhnGia Lai company is responsible for the construction of the airport, which is valued at more than US$74 million.
The company suspended construction of the airport last year after signing a contract in 2013.
The new airstrip was scheduled to be finished in 2017, but construction came to a halt when the project was about 30 percent complete.
In the National Assembly session, Minister of Public Works and Transport, Dr Bounchan Sinthavong responded to questions put by Assembly members concerning the compensation payments.
The company has approved the payment but at present it has no money to pay any compensation to households affected by the project and has asked the government to make the payments instead.
Upon completion, the new airport should be able to accommodate aircraft with 70 to 100 seats, such as the ATR72.
Source: Vientiane Times