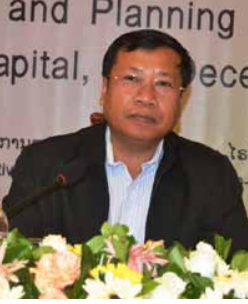 Lao researchers and academics are expected to benefit significantly from the Research 4 Life project, which aims to increase understanding among Lao researchers about how to access academic papers and other research free of charge.
A workshop to announce the project was launched recently, attended by Representative of Food and Agriculture Organisation of the United Nations, Dr Stephen Rudgard, along with concerned officials, academics, researchers and other participants.
Research 4 Life is the collective name for the four programmes under its umbrella, those being Research in Health (Hinari), Research in Agriculture (AGORA), Research in the Environment (OARE) and Research for Development and Innovation (ARDI).
The initiative is focused on supporting free or low-cost access to academic and professional peer-reviewed content online with the aim of reducing the scientific knowledge gap between industrialised countries and developing nations.
The project is designed to enhance the scholarship, teaching, research and policy-making of the many thousands of students, faculty, scientists, and medical specialists, focusing on health, agriculture, environment and other life, physical and social sciences in the developing world, according to senior officials associated with the project.
Deputy Head of Planning and Cooperation Department under the Ministry of Sciences and Technology, Mr Sipheng Sengphompunh said recen tly at the country based Research 4 Life on the Hinari and AGORA workshop that the project definitely has an important role to play in Lao research. Mr Sipheng said most Lao researchers lack funding support or donors in carrying out their work, so access to peer-reviewed papers and other research documents can be prohibitively expensive if researchers are required to pay.
Therefore this initiative to provide access to large troves of research and scientific papers free of charge or at low or minimal cost will benefit Lao researchers greatly.
World Health Organisation Representative to Laos, Dr Luo Dapeng also noted that it was an important workshop that will go a long way to improving research work in Laos.
As many of you who do research are aware, the subscriptions to printed journals are very expensive. They usually consume a significant chunk of libraries' budgets.
In developing countries, these budgets are often small or non-existent. This means that researchers, scientists, students and those who need to do research cannot access needed information. In the public health arena, this information can sometimes be life-saving.
Since 2002, the number of participating publishers and journals and other full-text resources has grown steadily.
Today, Hinari provides free or very low-cost online access to up to 14,000 e-journals and 33,000 online books in biomedical and related social sciences to non-profit institutions in more than 100 low and middle-income countries and areas.
Recipients include teaching hospitals, government offices, universities and research institutes.
Source: Vientiane Times