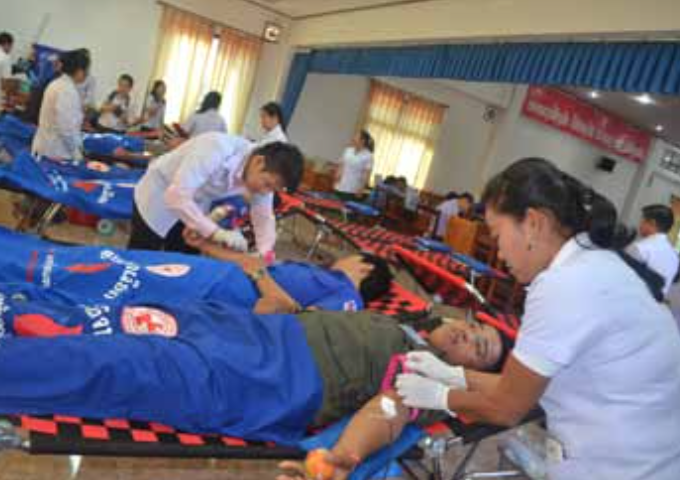 The Lao Red Cross National Blood Transfusion Centre is still unable to provide enough blood to meet demand because more and more is needed for road accident victims.
The rapid increase in the number of road accident victims is a big problem for the centre when it comes to evaluating the amount of blood it needs and providing that blood, according to the Director, Dr Chanthala Souksakhone.
Speaking to Vientiane Times yesterday at a blood donation event to mark National Day, Dr Chanthala said that from March to October this year the centre had used about 30 percent of its stocks for road accident victims.
But he also said that blood transfusion services had steadily improved.
The centre has integrated its services with the health care system to ensure the availability, safety, and quality of blood and blood products for hospital patients.
About 200 students from schools in Vientiane donated their blood at yesterday's event.
This year, the centre aimed to collect 38,000 bags of blood for public use and was able to achieve that target between March and October.
While the centre is pleased with its success in getting more people to donate blood, it is unable to fulfil the hospital's needs because about 60,000  bags of blood are needed each year, Dr Chanthala said.
The centre can supply 80 bags of blood a day but hospitals need about 170 bags a day.
"I would like to thank all donors and point out that Laos needs more blood donations to save the lives of road accident victims," he added.
Regular, voluntary, unpaid blood donors are the safest group of donors as the prevalence of blood-borne infections is lowest among these donors.
According to the World Health Organisation (WHO), about 107 million units of blood are collected globally every year. Nearly 50 percent of these blood donations are collected in high-income countries, home to 15 percent of the world's population.
In Laos, almost 35,000 units were collected in 2013, which constitutes only 58 percent of the 60,000 units recommended by the WHO for a country the size of Laos.
About 40 countries are still dependent on family donors and even paid donors when a family member needs a blood transfusion, Dr Chanthala added.
The WHO hopes to mobilise youth, communities and society as a whole by raising awareness on this issue, and asking everyone to come together and make a difference.
Working with the Ministry of Health in Laos, the WHO advocates for regular voluntary unpaid blood donations and thanks people who are already donating regularly for their life-saving gift.
Source: Vientiane Times