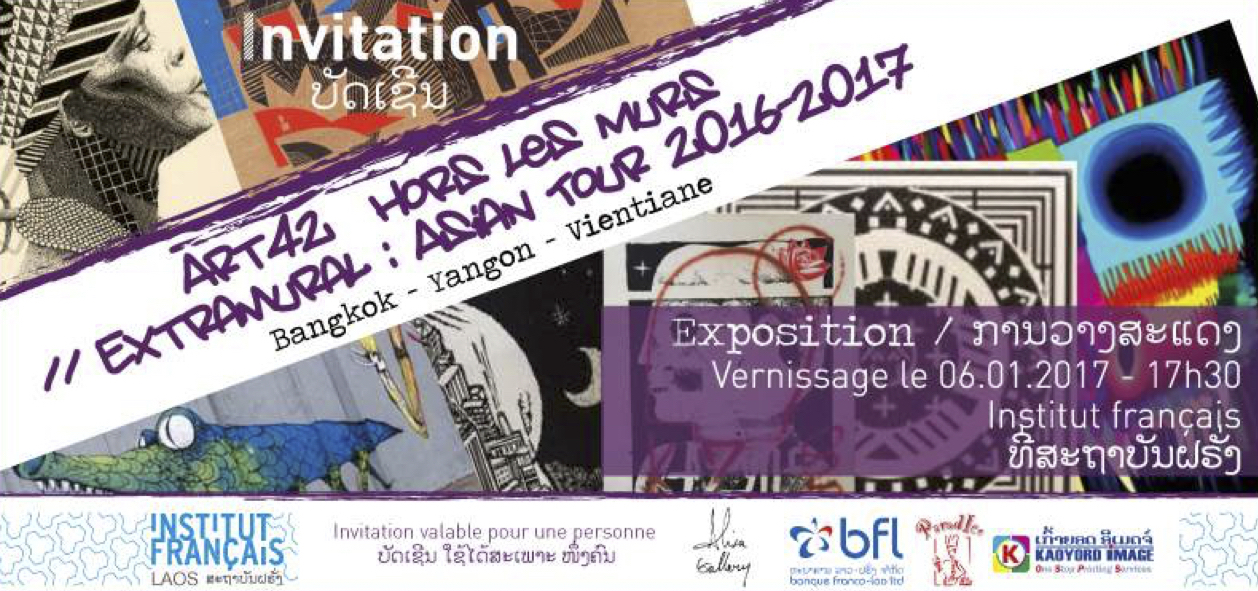 For the first time in Asia, the
Alisa Gallery
headed by Alisa Phommahaxay, one of the curator associates for
Art42
, invites seven French artists from this collection to show their work. Entitled "
Art42, Hors Les Murs // Extramural : Vientiane," the event will be held from the 
6th to 15th of January 2017
 from
5:30pm
at the French Institute in Vientiane.
French Urban Art
ART 42 is the first (anti) urban art museum in Paris, France, which opened in October 2016.
Featured Artists
BAULT
: a French street artist and illustrator born in 1978. He uses a mix of acrylic paint and low pressure.
ERELL: Erell spreads his distinctive square-shaped patterns on the streets all around the world like a virus.
ROMAIN FROQUET: The work of Romain Froquet is an invitation to the fantasy and the uniqueness of a universe stemming from his own subconscious. Froquet, a self-taught ar7st directs his passion for drawing to diverse mediums without prejudice. He is as comfortable painting on an easel, or on the street enveloping the walls of lost dismal areas of town or creating site specific installations. He wishes to express himself with or without a public, sometimes choosing obscure urban areas to dress the walls with his delicate tree like representations that bring colour and joy to an otherwise gloomy background. The surface is of no importance nor the visibility of his installations, here he presents himself as an ephemeral ar7st and as a performer –it is his process that becomes paramount not the actual public display.
KAZY: In a crazy world full of realism and fiction, Kazy develops a personal world where strange characters come to life.
CLÉMENT LAURENTIN: After his studies in Visual Arts at the Boulle school, one of the most renown public school in France, Clement Lauren7n joined the 9e Concept in 2001. In his work, Clement developed a graphic and semiological style with distinct lines, in which he tries to make them coexist as so many aspects of the same personality. His drawings can be spontaneous or thought, his portraits can be set in the reality or related to an oneiric imagery. Nevertheless what is important for Clement is to play with the opposite and spring up the unexpected. His particular interests are music, street art, printing, but the melting pot is also among the themes that inspire him. His peculiarities such as being mind-blowing, inventive, positive and curious, can be seen in his works which are full of energy and optimism.
MADAME: Madame was born into an artistic family. She is one of those few people who fall under this category. Her moniker sounds sophisticated and theatrical, just like a stage name for a prima donna, which resonates with the nature of her professional background. But in case you feel like it sounds just a bit too classy, consider her other alias: Madame. A healthy sense of humour casts a different light on the artist, denoting how femininity and masculinity can overlap at times. After years of exploration and cultural uplifting, which involved theatre studies, Madame eventually found her own favourite genre: pasting.
STEW: STeW is a French contemporary artist born in 1978 in Les Lilas, Paris. He is well known for his Japanese inspired artworks, and murals created throughout the world. From an early age, he had shown a tendency towards art, redecorating his own room when he was only four years old! What makes him recognizable are his Japan-inspired artworks. Samurais are resurrected in modern world, but STeW always inserts something of his own into pieces. Such a powerful source of inspiration turned into reality in such a magnificent way. Besides Japan, he loves and is a passionate collector of stamps. Nature is another one of his inspirations. Traveling, even if happening only inside his head, gives the artist enthusiasm to continue his work.
36RECYCLAB (Special Curator Guest): 36recyclab (Alexis Cladière) does large scale street exhibitions of black and white engineering collages creating new perspectives and many more projects as sculpture.
The public is invited to come to discover the up and coming, exciting French Urban Art Scene!