While regulations on seatbelt use have existed since 2013, the law has rarely been enforced. Recently, however, Vientiane residents have begun receiving fines from diligent police for failure to buckle up.
According to Article 18 of the Law on Land Traffic, drivers and passengers of vehicles with four or more wheels, including all front passengers, must wear a seatbelt. Infants that are unable to wear a seatbelt must be seated in a car seat.
Vientiane drivers have taken to popular social media sites to vent their misfortunes, stating that they are being fined 150,000 LAK per traffic violation, with paper receipts of the fine to prove it.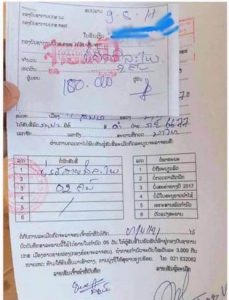 So why now? The seatbelt crackdown may be due to a pledge authorities made to road safety back in 2016. As previously reported by The Laotian Times, the Traffic Police Department of the Ministry of Public Security partnered up with Lao Brewery Co., Ltd to run a road safety campaign due to the rising toll of injuries and deaths caused by road accidents.
Statistics show that those who utilize seat belts dramatically reduce the risk of vehicular death by 45%, and cut the risk of serious injury by 50%.
Though the crackdown on seatbelt use may have caught the public unawares, the safety measure has been implemented as good practice and will save hundreds, if not thousands of lives on Vientiane roads.