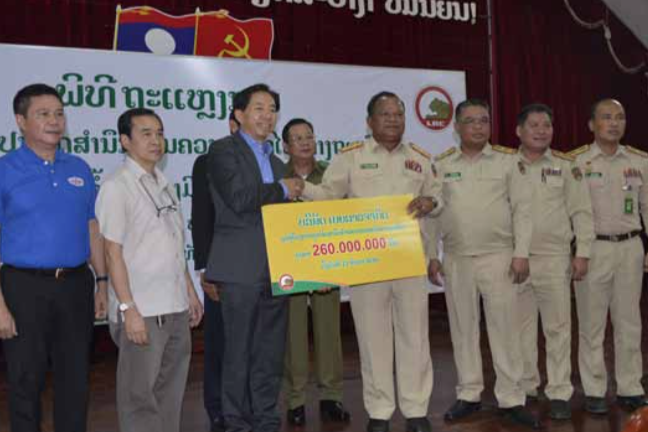 The Traffic Police Department of the Ministry of Public Security, in partnership with Lao Brewery Co., Ltd, is continuing its road safety awareness project to reduce the rising number of accidents and traffic congestion.
Director General of the Traffic Police Department, Colonel Khamthavai Phetouthai noted at the road safety awareness project ceremony on Thursday in Vientiane that The number of vehicles is continuing to increase, which is leading to more accidents and traffic congestion in the country.
In 2014, there were 5,072 road accidents around the country, in which 9,264 people sustained injures while there were 1,054 fatalities.
In 2015, there were 4,349 road accidents nationwide, in which 6,686 people sustained injuries while there were 797 fatalities. The cost of damages was estimated at over 90 billion kip, he said.
According to the department, from January to August 2016, there were 3,746 accidents recorded nationwide during this time, including 714 fatalities. Some 5,935 people were injured and 6,883 vehicles were damaged.
Meanwhile, motorbikes were involved in 95 percent of the accidents, with 90 percent of those dying in accidents being male.
The majority of accidents occurring around the country still involved drunken driving and high speeds.
The project will be handing out information on the traffic regulations and the dangers of careless driving. The on-going activities have helped participants have a better understanding about traffic rules and the danger of accidents.
The project is focused on enforcing the traffic regulations along the national roads, setting up checkpoints to monitor motorists' speeds and assessing their levels of sobriety along important roads.
In particular, the project has highlighted the meaning of road safety and traffic signs, the anti- drink-driving message, and also distributed stickers and brochures at schools, roadsides and to participants during activities.
Following the campaign, the authorities hope society will have a much better understanding of the traffic regulations, especially students at man y schools, as young people are over represented in road statistics.
The project will run from December 2016 to March 2017 and then they will summarise their results.
A ceremony for the road safety awareness project launch took place at the Traffic Police Department office on Thursday and was attended by Deputy Director General of the General Police Department, Brigadier General Dr Thongsavanh Vongsavath, Director General of the Traffic Police Department, Colonel Khamthavai Phetouthai, and President of Lao Brewery Co., Ltd., Mr Sounthone Phommachack. Lao Brewery Co., Ltd supported this year's operations with funds totalling 260 million kip.
Source: Vientiane Times