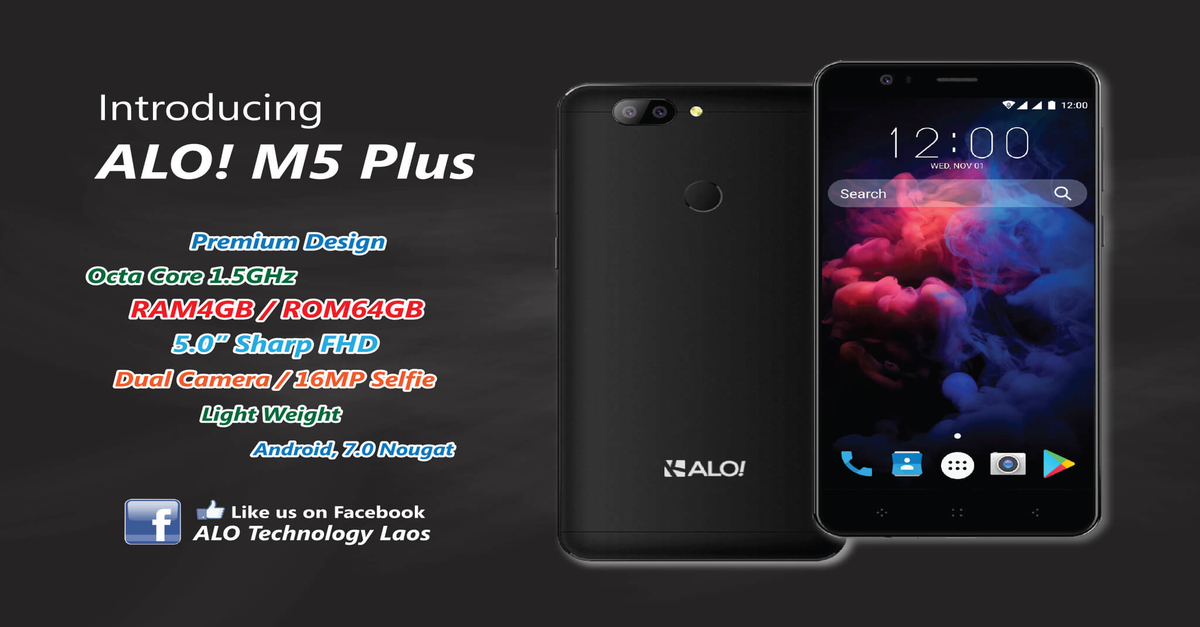 ALO! Technology Sole Co., Ltd, a Lao-owned technology company, introduced the ALO! M5 Plus, the 2nd generation of its 5" smartphone powered by the Android 7.0 platform. The ALO! M5 Plus will be on display at the ALO! Showroom (164 Samsenthai Road) in Vientiane starting from November 11th.
The ALO! M5 Plus is optimized with Android 7.0 Nougat, which offers fast and powerful software performance. Complete with a 5–inch Full HD display of 1920×1080 resolution, and an Octa–core processor, 4GB RAM + 64GB ROM, the ALO! M5 Plus is the perfect choice for consumers who want a differentiated user experience in a very fast and light–weight smartphone.
"ALO Technology Sole Co., Ltd is committed to enhancing the mobile experience of consumers in Laos with innovation and high value that is both personal and unique to their needs," said Mr Thanousone Phonamat, CEO and Owner of ALO! Technology.
He also said that "the ALO! M5 Plus is a new compact smartphone. Main specs are 5.0 Inch display, 4GB of RAM, 64GB internal storage, MTK6750T Chipset, Octa-core processor and 4G Connectivity. The camera inside the M5 Plus is a rear dual camera and a 16MP front camera. The display technology is from SHARP. You can expand the storage with a 128GB micro card. The display has a 2.5D curve to create a more premium feel. The phone comes with Dual SIM technology to support using two SIM cards. It operates using Android 7.0. Other good things to know about this device is how the display has a high resolution of 1920×1080 pixels; the GPU is the fast Mali-T860 MP2. The phone contains aluminum alloy protection and has a 3.5mm earphone port.
The battery provides 2680mAh and the phone is 8.1mm thick weighing only 133 grams in total. It has OTG support so users will find it easy to connect with other devices, or use it to charge other devices. We also provide a TPU case when you purchase this smartphone."
The company is offering a special discount of 10% for each phone purchased during the launch month of November 2017.
For further information, please contact Toula Phimmakong, Tel: 021 254377 Or 020 77810796.