The Vientiane State Bus Enterprise (VSBE) will be initiating a trial run of their bus line running between Lao-ITECC and Talat Sao this week. From Wednesday, November 15th to Monday, December 4th bus riders can catch a ride to and from ITECC to Talat Sao, with eighteen stops in between, for just 4,000 LAK per one way trip.
The new division, named City 2, was announced earlier in the year, and has buses donated by Kyoto, Japan that will run three routes: the Airport Line (main landmark: Wattay Airport), Commuter Line (main landmark: Patuxay), and Community Line (main landmark: Lao-ITECC).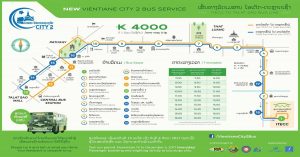 Buses will run every hour, from 7:00- 16:30, please click here for more information on routes, bus stops and times.
Source: Vientiane City 2 Bus Service